Palina Sharenda-Panasyuk: We Demand Lukashenka's Resignation
103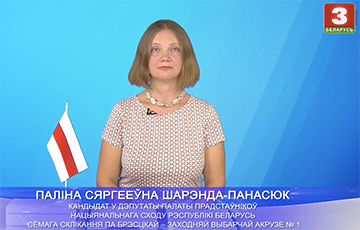 The activist of European Belarus spoke on Belarusian television.
Today the activist of European Belarus Palina Sharenda-Panasyuk spoke on Belarus 3 TV channel.
The speech was broadcasted at 7-7.15 pm.
Charter97.org publishes the full text of Palina Sharenda-Panasyuk's speech.
"Dear Brest citizens!
My name is Palina Sharenda-Panasyuk, I represent the European Belarus civil campaign. I would like to thank all those who signed my nomination. However, I will not urge you to go to the elections, because there have been none since 1994. Dictator Lukashenka has taken away the fundamental right from Belarusians - the choice.
All these years our country has lived in illusions and lies. The rest of the world has made a huge step forward, while Belarus seemed to be frozen, as the state system is working not for the development of the country, but the preservation of the dictator's power. This is the core of almost all the problems we have - domestic and national ones.
Instead of a decent salary and protection of workers' interests, there is a bonded contract system. Instead of creating modern industries there is a preservation of outdated Soviet methods of management. Instead of normal scholarships and pensions, there is an election handout. Instead of modern medicine and education, there are parades, ice palaces, other pompous residences for the dictator.
Even according to official statistics, almost three million Belarusians cannot afford a minimum set of goods and services.
Over 25 years, the population of Belarus has decreased by more than a million people. Hundreds of thousands of compatriots have to seek a job abroad. The health of entire cities, such as Brest, Svetlahorsk, and Navapolatsk, is at risk due to illegal harmful industries. We, the citizens of Brest, are aware of the situation with the battery plant. The authorities lie that the plant is closed. However, it keeps poisoning our environment. Therefore, protests against the plant continue.
The authorities are about to launch a nuclear power plant in Astravets. Its construction caused numerous scandals, accidents and lies of the officials responsible for it. Belarus, which has already suffered from Chernobyl, faces a new, more terrible environmental disaster. Do not believe the deceitful propaganda that the station can provide you with energy independence. You will have a nuclear bomb at hand, expensive electricity and even greater dependence on Russia.
For residents of Brest, trips to Poland are very important. Against the background of Belarus' poor economic situation, Poland is becoming a source of affordable and quality goods, which allows thousands of our fellow citizens to maintain an acceptable standard of living. And what does our "socially-oriented" state do? It restricts permanently the import of goods and imposes high duties on them. These are the Belarusian authorities, not Europe, to blame for the high cost of visas for Belarusians. This government does not want to introduce small border traffic with Poland, which would allow residents of the border regions of both countries to travel to each other without visas. The civil campaign "European Belarus" has held many actions in support of this idea and supports the immediate ratification of the agreement on small border traffic by the Belarusian side.
Through the lawlessness that prevails in Belarus, the country has acquired the sad status of "the last dictatorship of Europe". We are on the sidelines of global economic and cultural processes. The country is about to lose its independence. Behind our backs, Putin and Lukashenka are negotiating on Belarus' accession to Russia.
25 years ago, we were deprived of the right to choose our power. None of the "elections" and "referendums", held in Belarus during this time, have been recognized as democratic. Therefore, all branches of the so-called "power", with its decrees and orders, are illegitimate. Only the return of true elections will bring changes. We should gain it through necessary to achieve this together through mass protests - this is the only force that the dictatorship understands.
We demand Lukashenka to leave, free elections and change of power at all levels.
We demand the closure of Astravets nuclear power plant, which jeopardizes the survival of the Belarusians as a nation.
We demand to provide our compatriots with a decent job and decent salaries in their homeland.
We want Belarus to revive, and we know how to do it. The coming year will be decisive!
We will stand together, and Belarus will become free! Long Live Belarus!