Volha Mikalaichyk: Lukashenka Is So Scared That It Causes Laughter
30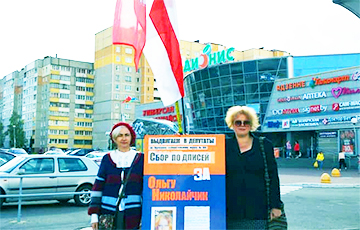 The authorities and the Belarusian people live on two completely different planets.
The candidate for deputy in the Uruchcha electoral district No. 09 in Minsk, European Belarus civil campaign, Volha Mikalaichyk told that in an interview with Charter97.org.
- Volha, you have been participating in pickets and talking to people for more than a month. Tell us about your vision of the election campaign.
- My impressions are extremely positive. I realized that one can talk to every Belarusian, even those who have a different opinion, and gain understanding and make friends. This is the brightest moment. We looked into each other's eyes without reproach, talked and built contacts. Now we are distributing business cards, booklets.
People get acquainted with each other, start arguing, some can then have a beer together. I like that people can eventually find common ground in any situation. Men remain men, they do not fall for provocations. No provocateurs are allowed to approach.
90% of people are against the present authorities. The only exception is probably extremely illiterate people. Everyone is against the dictatorship!
People have different opinions about whether Belarus follows Europe or takes another direction. But the key thing is that one can always find a common language in this regard. Belarusians need to unite. We do not need to fight against each other.
Today we all need to start building a new Belarus without Lukashenka. So that our children could be happy and the level and quality of life could grow, people could have good conditions for development. To make education free. To have a high-quality healthcare sector. To make people just smile.
Unfortunately, it is very hard for Belarusians to live in a closed society now. As they say: "If you leave the house, handcuff yourself". Today, I see this situation in this way, because the current government has done everything for it. The authorities and the Belarusian people live on two completely different planets.
- What questions are the most popular?
- First of all, the change in the current government was often raised. Everybody wants changes, removal of this power, but nobody knows how to do it. People hope that someone will do it for them. This is the main problem.
How can one change power? To do this, we need to start contacting each other, talk to each other. If there are some conflicts during conversations, the truth can be reached by peaceful means. We need to reach understanding and stand against this Shklou gang. If we don't, we will leave our children in such slavery that they will simply not be allowed to breathe.
- Why do you think the authorities haven't registered Iryna Khalip, Maksim Viniarski and Andrei Voinich as candidates?
- Because of fear! In general, I am surprised that I was registered. They believe that "we'll leave Mikalaichyk alone, and then, most likely, we won't let her on TV and she'll cancel her candidacy. She won't do anything alone".
Several people from European Belarus were registered. But the authorities did not think that we would unite. Now all those, who have not been registered, are our agents. Our pickets continue. Our people are standing in the streets of Minsk with flags. The work is in full swing.
It's fun that Lukashenka is afraid of Iryna Khalip after events of 2010. Irina weighs 45 kilograms, she doesn't know either karate or aikido, doesn't ride a tank. She scares the dictator so much that I just want to laugh all the time! Iryna scared the gang of Lukashenka so much that he didn't even register her as a candidate.
I think she wouldn't have made it to the "house" anyway, because we have no elections. We have only falsifications. Iryna is a brilliant journalist, courageous, who is not afraid of anybody and goes alone, without protection. She stands for freedom!
Lukashenka was so scared that I am simply ashamed of him and his entourage, they are not men. They are afraid of this frail woman who comes out alone and defends this golden pen. The situation is comical.
- What do people say about the BelNPP in Astravets?
- To be against the NPP is set in our DNA after the Chernobyl disaster. Belarus has suffered so much after this tragedy!
The authorities did not even try to learn the opinion of the Belarusians. They built it and took $10 billion loan. Its construction is not trustworthy. In my opinion, it carries a terrible danger to our country and Europe.
For Lukashenka, the plant will be a source of enrichment. The BelNPP will operate until the first failure, but until then he will impose this electricity at high tariffs. After all, he has to repay the loan. Everything will operate on electricity. We will waste our money, while Lukashenka gets rich. This is the most horrible thing.
People are afraid of the atom and they don't know how to resist it. The Belarusians are scared to death.
- European Belarus also stands for decent wages of Belarusians in their homeland. How much should Belarusians earn in their country?
- Belarusians are a very expensive labour force! Wherever they go, they are always welcomed.
Belarusians are hard-working, conscientious nation of educated people. Belarusians are very organized and able to work. Their work is very well paid abroad. It is true!
Therefore, we should earn as much money in our own country as we earn abroad. Alas, most of the money is wasted on dictatorship and its army of officials, law enforcers, and the army.
Meanwhile, teachers, doctors, engineers, architects and ordinary workers are underpaid. These funds could be used for social needs - medicine, education, the development of social programs. In the end, everything is spent on entertainments of the dictator.
People could earn much more. For example, a teacher could earn 1000 euros instead of 300 rubles. A doctor in a polyclinic could earn the same amount of money! Ordinary pensioners could receive a pension of $300-400. But we give our money to Lukashenka and his gang!
- European Belarus also stands for a change of power. Why should it happen?
- Not a single step forward can be made without a change of power! Not a single one! The authorities don't need it, they need to continue sucking all the juices out of the people!
To develop, we need to move forward. We need other development programs - economic, social, political. We don't have the latter at all, because Belarus has only a dictator and his entourage. We have neither political nor entrepreneurial elites.
We have only Lukashenka, a multi-billionaire, a man who bankrupt his state farm "Haradets". Stealing is not working and not earning money!
- What would you like to wish the Belarusians, who are waiting for changes in their country?
- I wish our Belarusians not to quarrel, but to unite for the sake of a change of power, against this collective farm dictatorial system! To unite around those who today stand in pickets all over the country under our flags.
Have you seen our flags, our activists? Take your business cards, leave your phone numbers so that we can all unite and be in touch. After that, when there will be millions of united people, we will know what to do next.
We need to follow those who are capable of making a difference, and this is us! These are not those who have lived off people for 25 years, but those who have taken to the streets today.
There are a lot of our adherents. Their number is constantly increasing. The society wants this power to go away! Everyone keeps saying: "Lukashenka, go away!"