Pavel Yukhnevich: If It Rains, Shall I Register My Umbrella with CEC?
1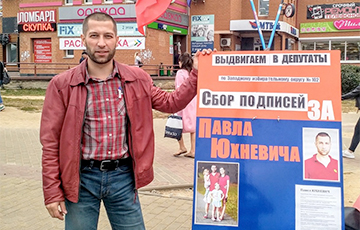 The things the authorities do to disrupt the election campaign!
Pavel Yukhnevich, a candidate for the European Belarus civil campaign in the Pushkinski constituency №103 of Minsk, writes on Facebook about his conversation with the members of the election commission:
- I call the district election commission:
- Where are the certificates for my agents?
- They are already here, you can come and collect them. Yes, by the way, the meeting of the commission on the fact of your violation of the rules of campaigning will be held tomorrow.
- Thank you so much, if I hadn't called, I wouldn't even know!
Artsiom Charniak has already been warned that there was a tent at his picket, which was not purchased with the money of the election fund.
Most likely, Åksana Yushkevich will also be given a warning - she was informed about it yesterday. Today, her previously recorded appeal to voters has not been released. Yesterday, members of election commissions demanded from our candidates to remove the word "Basta!"
What's next? If it rains during a picket, should I register an umbrella with the election commission?