"Fool Is Always Making Parade Of His Maybachs And Residences"
Andrei Isakau, Basta
22.10.2019, 15:43

1,199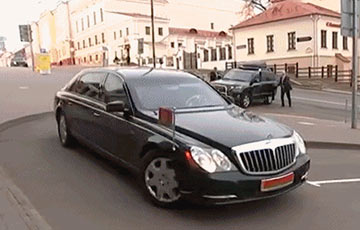 Belarusians will not repay the debts of a strange man with doubtful prospects.
Lukashenka and his sycophants have long been not ashamed to demonstrate the luxury in which they live. Residences, "Maybachs", toilets and chandeliers for hundreds of thousands of dollars. A fool always boasts of his wealth, otherwise he doesn't need it much. And it's hard to hide it anyway. The main fool sets an example for the others. If residences - then there must be 17, if an armored limousine - then the most expensive one. If a parade - then the asphalt must shake. He even, I remember, hinted at the second nuclear power plant when the foundation of the first one had not been poured yet.
Belarusians see all this and the first thing they think about is the cost of the dictator's toys. Potemkin villages and quite real residences of Lukashenka are indeed very expensive. As well as the dangerous projects, for which he was assiduously taking loans from Russia and China. Not so long ago it was calculated that each of us owes Lukashenka's creditors almost $5 thousand. A thousand of them is for the nuclear power plant in Astravets, by the way.
In fact, it is not so.
The trick is that since Lukashenka and his company usurped power by means of the so-called "referendum" in 1996, he has been in power illegally, all the subsequent elections were forged and his signature is worthless and means nothing.
Belarusians will not repay Lukashenka's debts.
When there will be no dictatorship and the creditors will demand from the authorities of free Belarus to return the money, which was previously received by the criminal, they will probably express sincere surprise. They will say that they were not warned.
We warn you: you're lending money not to the president of Belarus, but to an ordinary citizen of Belarus with unclear criminal prospects. The law is the law, and no one has the right to violate it, moreover - to indulge in its violation and pretend that everything is normal.
Andrei Isakau, Basta