'Grey Cat' Blogger: I First Got Involved In Politics When I Participated In 'Parasites March'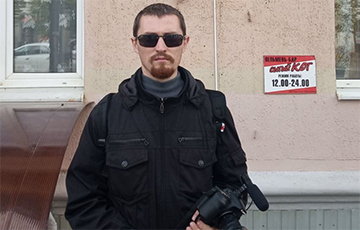 If you don't get involved in politics, you may find yourself in a bad situation.
Zmitser Kazlou is keeping the blog called "Grey Cat", this is both his hobby and his work. He decided to run for a deputy of the "Chamber of Representatives" to reach the people who don't watch political bloggers online.
Zmitser is 31, he lives in Vorsha, he worked at the aircraft repair plant, at the flax processing factory, and has been engaged in his blog for several years by now. Alonside with him, 7 people have been registered as parliamentary candidates in this electoral district. Radio Svaboda has asked Zmitser about his parliamentary ambitions, and the people's problems.
About the electoral campaign and the people
"I expected provocations and falsifications, but, surprisingly enough, everything went peacefully. I thoght they would put pressure on the memebers of my nomination group. There was nothing of the kind though. Everything was in order with my documents, I was nominated under the BPF party lists. First I collected signatures, but then was nominated under the party lists.
I would divide the people who were at the pickets, and whose places I visited, into several categories. The biggest group consists of the people who don't notice you at all. Among those who did approach us, there were many people who had no idea what authorizations an MP has. The people asked about water heating, maintenance of backyards. There were the people who believed it was necessary to fight, to give way to the youth. There was even one pro-Russian monarchist, who said we had a Tsar Vladimir Vladimirovich. That man had a St.George's ribbon on his bike."
I am not a member of the European Belarus, but I am running with the common program with them. The key theses are: protection of sovereignty, return of free elections, improvement of the people's well-being, and ecological issues - closing down the Belarusian NPP, reduction of the quantity of harmful enterprises. Unfortunately, with our puppet parliament, a deputy seems unlikely to influence anything seriously.
However, when there are adequate people in the "parliament", those capable of conveying ideas to the European politicians, to the people, the influence becomes possible. As if there are no candidates from the opposition, nothing good will happen. Another former chief of police department or some enterprise ex-CEO will be sitting there voting "properly". For the expense of the budget."
About work and money
"The blog is my hobby and work at the same time. I earn on it thanks to donations. I declared this when I registered as a candidate, and there were no questions. After secondary school, I entered the Horki Agricultural Academy, I studied there for 4 years, but haven't graduated. I don't want to reinstate there as a student, as I have some other thing to do, I need money for this. Moreover, they will expel me anyway if they notice me at a demonstration. Officially, I have been a "parasite" since 2014. I used to work at the aircraft repair plant, and at the flax processing factory, for 6 years".
About Belarusian politics
"If you don't get involved in politics, you may find yourself in a bad situation. Today we have the "decree on parasites", and the problems related to the army service postponements. If no one resists, more and more taxes and extortions will come, it will reach the point of slavery in the end. I got involved in politics for the first time when I participated in The "Parasites' March" in Vorsha in 2017. After that, I started going to demonstrations, and keeping a blog about these events."