European Belarus: Basta! To Collective Farm Dictatorship
6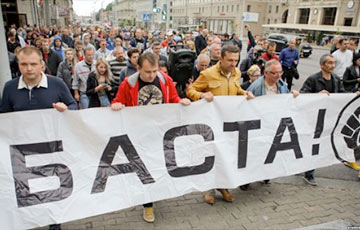 A statement of the civil campaign.
The pre-election pickets that are held in the streets of Minsk have scared the dictator and his accomplices. For two days, warnings were issued to candidates for deputies from European Belarus Artsiom Charniak and Volha Nikalaichyk, as well as Aksana Yushkevich and Pavel Yukhnevich were summoned to the commission meetings. The authorities are most annoyed by the slogan "Basta! To Collective Farm Dictatorship" on the stands and posters, - the statement of the civil campaign reads.
The Belarusians first got acquainted with collective farms in the 20s of last century. Together with them, the terms "collectivization," "repression," "expulsion," "man-days" came into general use of the country's residents. The collective farms became the Bolshevik regime's tool for enslaving and humiliating the Belarusian peasants. Decades later, this word became a symbol of backwardness and inefficiency of the Soviet system, poverty and devastation to which the country had been brought.
Lukashenka's regime is an ideological heir to the USSR, it has been repeatedly stated by the dictator himself. Instead of economic and political reforms we are offered the very same collective farm. They have been imposing new serfdom on the villagers instead of freedoms and encouragement of personal initiative. The dictator does not want to give the land to those who live and work there, but sells it to his friends and crime partners.
European Belarus respects the workers of the village, who, just like everyone else, deserve a decent life and a decent income. We support agrarian reform, in order to give the citizens of the country the opportunity to manage the land with all forms of ownership.
The collective farm dictatorship that has led the country to an impasse must remain in the past.
Basta! to collective farm dictatorship!