Photo Fact: European Belarus Picket Held At Entrance To Minsk City Court
2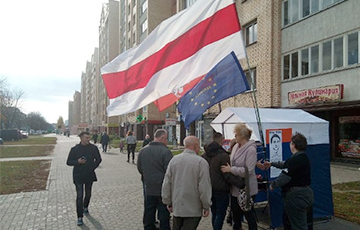 The activists demand the release of political prisoner Dzmitry Paliyenka.
The picket of the European Belarus civil campaign is now being held at the entrance to Minsk City Court. The trial of political prisoner Dzmitry Paliyenka was continued there at 12.00. The activists have unfurled flags and chant slogans "Basta! To Lawlessness", "Basta! To Dictatorship" as well as distribute information materials within the election campaign, the press service of the campaign reports.
Pickets of European Belarus are held throughout Minsk today according to the following schedule:
the Pushkinskaya metro station, cinema "Aurora": 11.00 — 19.00,
29 Prytytski Street, the Tsivali shopping center: 11.30 - 19.30,
the Spartyunaya metro station, exit to Belski street: 12.00 - 15.00,
the Skala shopping mall: 4:00 p.m. to 8:00 p.m,
12 Mahiliouskaya Street, the Dzionis shop: 15.00 - 19.00,
the Tractor Plant metro station: 15.00 — 20.00.
You can find the pickets by the flags with Pahonia and the symbols of the European Union.