Video Fact: Military Transport Plane Il-76 Flew Over Sukharava
14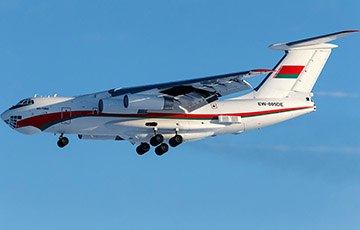 What was it doing there?
Reader Dzianis has sent to the editorial office a video, in which a plane, very similar to the military transport plane Il-76, flies quite low over Sukharava micro-district. Tut.by tried to find out what it was doing there.
- Usually the planes take off from Machulishchy in order to pass outside the city, so this situation does not occur often. But there is nothing surprising in the fact that the transporters are flying now - most likely, the plane was going to Brest to the exercises, they are now taking place there, - a familiar military pilot explained to us.
Later, the Ministry of Defense confirmed that it was really IL-76. The situation was normal.
Obviously, it's about the joint exercise of paratroopers of Belarus and Russia, which began on October 21. More than 900 people, more than 200 units of equipment and four IL-76MD military transporters take part in the exercise.
In addition, from now on, the Armed Forces are checking the readiness of air crews, anti-aircraft missile and radio engineering forces of the Air Force and Air Defense. But it is unlikely that heavy transport planes go aloft precisely because of this inspection.
By the way, this is not the first time when the IL-76 is flying over this part of Minsk. In the summer of 2017, the same aircraft was flying low over Kamennaya Horka, Sukharava, Hrushauka and the old airport. Then the expert explained its appearance by the arrival of Russian soldiers for the West-2017 exercises.
The IL-76 is one of the most common military transport aircraft in the world, and at different times it was in service in almost 40 countries. The transporter can lift up to 60 tons of cargo or up to 126 paratroopers.