Lithuania's MEP Compares Astravets NPP With Nord Stream-2
3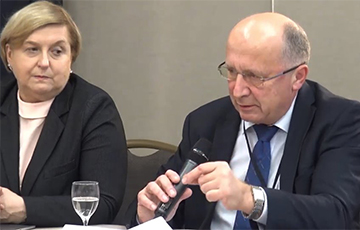 Moscow is investing in both projects, and both pose threat to security.
European Parliament deputy from Lithuania Andrius Kubilius compared the projects of the Astravets NPP and the Nord Stream-2 gas pipeline, Charter97.org reports.
"There is one project - Nord Stream-2, where the Kremlin is investing 10 billion US dollars, there is another project - the Belarusian nuclear power plant in Astravets, for the same amount from the Kremlin. Both threaten our security," said Kubilius at a conference in Strasbourg organized by the non-profit organization Free Russia.
The day before, the chairman of the "Union of the Fatherland - Christian Democrats" Gabrielius Landsbergis appealed to the chairmen of the center-right parties of the European People's Party with a request to support Lithuania in countering the threat posed by the Astravets NPP. Landsbergis noted that Lithuania's partners in the EU should be informed about the country's position on the issue of a nuclear power plant under construction in Belarus.
The letter also indicates that the Astravets NPP is located too close to one of the European capitals - Vilnius, and poses a threat not only to Lithuania, but also to the security of the European Union as a whole.
"The construction of the power plant does not comply with the requirements of the ESPOO Convention, recommendations made after stress tests, and violates the basic provisions of the Convention on Nuclear Safety. The only way to ensure safety is to prevent the launch of the Astravets NPP, "Landsbergis said.
In April 2017, the Lithuanian Parliament passed a law prohibiting the purchase of electricity from unsafe nuclear power plants. Later, the Sejm also recognized the nuclear power plant under construction in Astravets as unsafe and threatening the national security of Lithuania, its environment and the health of its inhabitants.
Lithuania has repeatedly criticized Belarus for not ensuring the safety of the nuclear power plant being built 50 km away from Vilnius.