It's Time To Take Responsibility For Future Of Country
NEXTA
11.11.2019, 11:48

1,733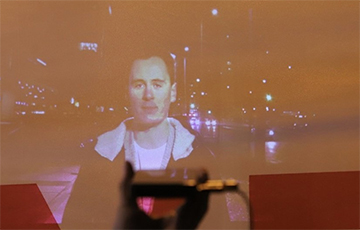 Stsiapan Sviatlou addressed the crowd on Freedom Square.
The most popular blogger of Belarus, Stsiapan Sviatlou (NEXTA), author of the film "Lukashenka. Criminal materials," which has gained more than 1.5 million views on youtube.com and about 600 thousand in other social networks, held a meeting of subscribers in Minsk. During the meeting he addressed the audience by video link.
- They said that I would not come.
But, as you can see, today I am with you! In order to say thank you very much to all of you! Today you have shown that you exist not only in the Internet and that they must regard you. Today you have shown that there is nothing to be afraid of! After all, the truth is on our side! Those who lie must be afraid.
And this is just the beginning. Hard and painstaking work ahead. But it is important that we are on the right track. That you know what you want. You know, #what's next. Thank you for your ideas, thoughts, comments. They are heard not only by us bloggers, but also by those who now call themselves "official authorities". Remember this. Remember, don't stay passive and indifferent anymore. It is time to take responsibility for the future of the country.
Today you offer your ideas. Personally, I propose to start with oneself. Get involved in any active work. To fix the lawlessness, to achieve observance of the lawful rights, to speak about the real situation with acquaintances, friends, neighbors, old people, dogs and cats.
And it doesn't matter who you are - student, worker, athlete or official. It doesn't matter which language you speak. It is important that we are all together! We, the Belarusians. And there are millions of us, as Liavon Volski sang, as many as you want!
So we stay in touch! We stay together! Long Live Belarus!" - NEXTA said.