On November 15 At Kastrychnitskaya Square!
Yauhen Afnahel
11.11.2019, 11:58

1,713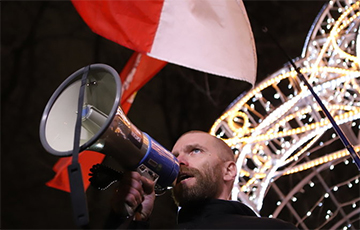 The activist urged the Belarusians to come to the square for a legal rally within the framework of the election campaign at 18:00.
The activist of the European Belarus civil campaign, Yauhen Afnahel spoke at the NEXTA meeting.
- Friends, my name is Yauhen Afnahel, I would like to thank Stsiapan for a great film. Several thousand people gathered on this square. Thank you. The film was watched by two million Belarusians. Such a large number of people have never seen a documentary film in the history of Belarus in such a time. This is a record. On behalf of the European Belarus campaign, which I represent, I propose to gather a week later, on the 15th of November, at 18:00 on Kastrychnitskaya Square in Minsk. Let's try to make the number of people on Kastrychnitskaya Square not a couple of thousand, but many more. I know that together we can do it. The authorities, who are afraid of us, cannot stop us. They thought that there would be no speakers - they are here. They thought we wouldn't show Stsiapan's performance - you all saw it. And we will gather at Kastrychnitskaya Square. Thank you, Minsk. Long Live Belarus! - Yauhen Afnahel said.
As you know, the election campaign for the "parliament" will continue until November 17.
Charter97.org reported from the popular blogger's rally live.