Dzmitry Paliyenka: Authorities Turned Yellow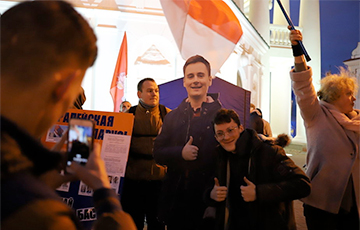 And it was too obvious.
The most popular blogger of Belarus, Stsiapan Sviatlou (NEXTA), author of the film "Lukashenka. Criminal materials," which has gained more than 1.5 million views on youtube.com and about 600 thousand in other social networks, held a meeting of subscribers in Minsk. About 2 thousand people came to the meeting.
Famous activist Dzmitry Paliyenka visited the meeting of NEXTA subscribers and wrote about it on Facebook.
"When approaching the Freedom Square, I noticed pickets of BRSM and Belaya Rus right away (they react promptly!).
They broke the plastic Stsiapan Sviatlou #NEXTA, were dancing on the loudspeakers, some policemen were dressed in the BRSM uniform. They made their cowardice too obvious.
But they were unable to disrupt the event.
All the "elite" of the Belarusian police were present: Aliaksandr Barsukou (Deputy Minister of Internal Affairs) and Dzmitry Balaba (the riot police commander), who tried to provoke me to fight, came close, pushed me, stepped on my leg, and threatened to pack me up in half an hour, but apparently chickened out.
There was also Maksim Hryshchanka (deputy head of the police department) and Ivan Kubrakou (head of the police department, who, pointing his finger at me, said: 364th against him!). But despite all attempts to disrupt the event, circuses with pickets of clowns from the BRSM, the event was successful, and the authorities showed the world community their abomination and cowardice."