Volha Nikalaichyk: We've Stirred Up Some Action And We're Going To Change Power Together!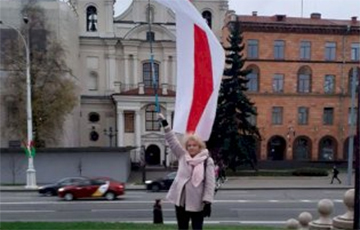 European Belarus has shown that it is a modern and relevant civil campaign.
This is what Volha Nikalaichyk, a candidate from the European Belarus civil campaign, director and activist, wrote on Facebook:
"Almost all our candidates and our cool, modern, pressing European Belarus civil campaign are here! We have shown that Lukashenka has no "elections"!
The authorities have stolen the elections from us!
But we have a choice - we will change the power together! Join us - we are the best!
November 15, Kastrychnitskaya Square, 18:00.
We've stirred up some action together with NEXTA! And the future of Belarus is ours. Long Live Belarus!
The most popular blogger of Belarus, Stsiapan Sviatlou (NEXTA), author of the film "Lukashenka. Criminal materials," which has gained more than 1.5 million views on youtube.com and about 600 thousand in other social networks, held a meeting of subscribers in Minsk. About 2 thousand people came to the meeting.
The coordinator of the European Belarus civil campaign, Yauhen Afnahel, at the NEXTA meeting called to gather in Kastrychnitskaya Square on November 15th. The rally will be fully legal, as the election campaign continues in Belarus until November 17, and everything will be held as part of the campaign of candidates for deputies.