Free Elections Only After Lukashenka Leaves
27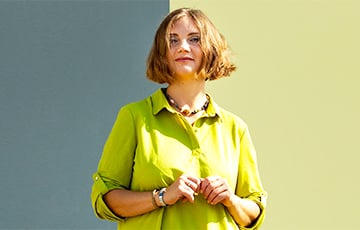 A powerful speech by Palina Sharenda-Panasyuk.
The activist of the European Belarus has recorded a video message to Belarusians.
Charter97.org publishes the text and video of Palina Sharenda-Panasyuk's speech.
- My name is Palina Sharenda-Panasyuk. I represent the civil campaign European Belarus. I was nominated as a parliamentary candidate by collecting signatures in the Brest-Zakhodni electoral district # 1. Exactly a week passed from my registration as a candidate for deputies to depriving me of this status. The regime survived only a week under the conditions of a real election campaign. Only a week of truth and criticism, and agitation was supposed to last a month.
Where has the vaunted stability gone with the claim for popular support? They quickly took off their masks and returned to the old methods: ban, deny access to air, deprive of registration.Thus, we have shown that the Lukashenka regime immediately loses in the conditions of these elections.
Representatives of the regime understand this. Therefore, for years, the same people sit in the election commissions, approving practically the same people as "deputies". This is a real gang of thimbles and crooks, with distributed roles. Some of them call to play, promising golden mountains, others - quickly remove the thimbles, manipulate, making a fool of a person.
However, over the many years of use, the thimbles have rusted; behind the holes it is no longer possible to hide the deception and lies. This was clearly evident from the behavior of crooks in the commissions and in courts, when they feverishly deprived me of registration. They were arrogant and self-confident, but their eyes ran nervously.
Then I realized - they are afraid. They feel at their backs the breath of revolution. When we announced our participation in the "elections", many did not understand why we were doing this. Today we can openly say that all this time there has been a campaign of active boycott of false elections. We said it before and say now: "Do not participate in this circus!" Playing with crooks is disrespecting yourself. The real elections to the Belarusian Parliament will take place after Lukashenka leaves. And it will happen very soon. I believe in it! Long Live Belarus!