New Generation Must Answer Lukashenka
Arseniy Dziadok
13.11.2019, 14:22

1,928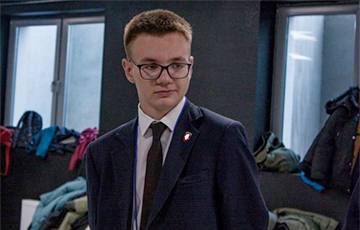 The youth leader urged to meet on Kastrychnitskaya Square on November 15.
Arseniy Dziadok, youth leader, spoke at Freedom Square during the discussion of the film "Lukashenka. Criminal materials," appealed to his peers, the press service of the European Belarus civil campaign reports.
- Dear friends, on November 8th we came to show that the Belarusian youth is there, - the activist said. - And we have shown it.
We also showed that Belarus is tired. Is tired of having no changes in the country for 25 years. We have been unable to influence the fate of our country for 25 years. A quarter of a century.
If during this time our neighbors have managed to strengthen their sovereignty and become economically independent, the options of incorporating into Russia are being seriously discussed in Belarus. Next year, the presidential elections will be held. And Lukashenka has already decided that he will go to the seventh presidential term. And we - the new generation - must respond decisively to this.
No - to the alliance with Russia!
No - the seventh term of Lukashenka!
We need to act courageously and decisively. On November 15, at 18:00, Kastrychnitskaya Square. I am waiting for you, because together we are strong and we will definitely win!