Mazyr Elections Commission Gets Terrified By Words 'European Belarus'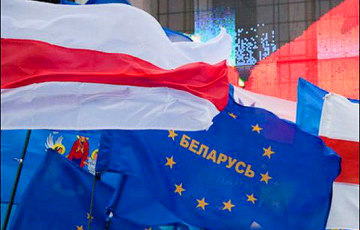 Mikhail Bandarenka appears to be haunting falsifiers.
The election commission of the Mazyr electoral district # 42, when publishing informational materials about the parliamentary candidates, altered the information about Mikhail Bandarenka, who is running on behalf of the European Belarus civil campaign. This is stated in the complaint, which the candidate sent to the district commission, the press-center of the European Belarus reports.
According to Bandarenka, not only his rights as a candidate were violated, but also the right of voters to receive reliable information about the candidates.
In the complaint, Bandarenka stated that the information on his candidacy did not indicate which party he represented (this is indicated in the information materials about other candidates), there is no information about the place of work, the commission removed the background - white-red-white, and changed the text.
"They didn't indicate the place of work, as if I was a parasite, did not indicate party affiliation, and deleted from the text that I represented the European Belarus campaign," the candidate noted in a comment to BelaPAN.
Bandarenka recalled in the complaint that the candidates, according to the law, are in equal legal conditions, and the district commission is obliged to control this. Information leaflets should be objective and reliable, they should not give preference to individual candidates.
The candidate asked the commission to post reliable information with his biographical data, his photo on a white-red-white background, and his opinion addressed to voters, in the local newspaper Žyccio Palessia.
"All candidates are nominated, and registered, from political parties. This is noted in the leaflets of three candidates. Only not the candidate from the Belarusian Popular Front. He is, let us say so, "immaculately registered". And the text of his appeal to voters was "castrated," observer Uladzimir Tselepun commented to BelaPAN.
On November 11, he took part in the consideration of this complaint in the district commission.
"The chairman of the commission claimed that the text in the leaflet was the same as that presented by the candidate. The white-red-white background was removed so that all candidates allegedly had the same background. By these actions, they not only violated the rights of the candidate, but also deceived the voters. I believe that this is the incompetence of the commission's employees," added Tselepun.