Students Captured On Video BSEU Professor Making Them Vote Early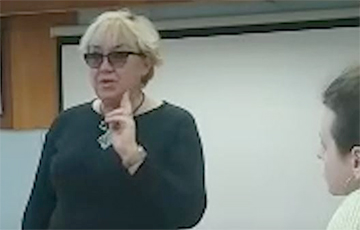 Students did not tolerate violation of professor Aksana Aniskevich.
The video has been sent to the Radio Svaboda editorial office, which was made at the meeting of students of one of the faculties in the Institute of Social and Humanitarian Education of BSEU on November 13.
The woman in the video, made in the institute auditorium, tells the students about the importance of participating in the "elections".
"Listen attentively, this is a serious issue, - the teacher says. - Early voting has started. It' s in the auditorium 250, 3rd building. You take the passports, the adult ones, and you go there. From 2 to 4, they have a break there".
As it became known, the woman on the video is the curator of one of the first year groups of the Institute, Aksana Aniskevich.
Aniskevich insists that all students should vote before the main day of voting.
"It is all being monitored, - the curator says. - You have to do this before Sunday. Because then they will start to nag us".