Lukashenka Will Resign
8
Jauhen Afnahel
15.11.2019, 11:38

19,662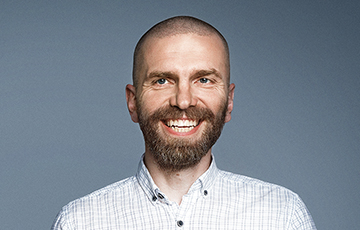 All Belarusians want it.
One of the leaders of European Belarus addressed his compatriots. Charter97.org publishes his speech:
- Good afternoon, friends.
My name is Jauhen Afnahel, I am the coordinator of the European Belarus civil campaign.
You see our flags - a blue canvas with stars and Pahonia - on the streets of Minsk, Brest, Vitsebsk, Orsha, Mozyr, Svetlahorsk, Babruisk, Maladzechna, Slonim and other cities of the country.
You supported our candidates with your signatures, allowing us to hold election pickets and rallies for two months, communicate with you, listen and speak. Thank you for your support and trust.
You told about our common problems, hard life, lack of prospects, the escape of Belarusians abroad and the threat of loss of independence.
Each of you mentioned the name of the main culprit of these problems. The person who has turned Belarus into a collective farm, a joke for the civilized world. Belarus is called the last dictatorship in Europe. We have found ourselves on the sidelines of global economic and cultural processes.
The reason is simple. We have been deprived of the right to choose our power. There are no free and fair elections in the country. An obsessed with power dictator shakes with fear every time he hears these words. We have seen this when representatives of European Belarus were deprived of even five minutes of airtime ensured by the law, were not registered as candidates, were removed from the elections. Reasons were not voiced. "You demand a change of power, you demand changes," representatives of election commissions told us.
Yes, we demand a change of power. All Belarusians want it. Once it was said, "It's over for the collective farm dictatorship!". It became the most popular slogan of the campaign. They are heard at election pickets, on the streets. They are an eyesore to the officials and drive ballot riggers from the election commissions into hysteria.
The end of the collective farm dictatorship is about to come and we all know it. For a moment, imagine Belarus without Lukashenka.
A free country in the center of Europe with residents who are proud of their past and confident in their future.
The country, whose land and air are not polluted by harmful cheap industries, built with the consent of corrupt officials.
The country where people are not hostages to the new Chernobyl, where trains do not run off the track and shells do not explode during the festive fireworks.
The country where everyone who wants to work can earn enough for a decent life.
The country where the real modernization of economy is carried out and protection of the private property is ensured.
The country with high-quality education and medical care, fair courts, honest and responsible officials.
Our neighbours, former socialist barracks inmates already have it. At the end of the 80s, we were at the same level as Lithuanians, Poles and Hungarians, or even ahead of them in some issues. Today the standard of living of Belarusians is the lowest in Europe.
The reason for this is simple - all our neighbours fought for freedom and won.
We are no worse than them. Belarusians are brave, hardworking and strong people. For centuries, we have defeated enemies others usually kneeled before. Our ancestors turned enemies back, while their forces doubled or tripled them. Our grandfathers forced the fascist to bypass the Belarusian woods and forests. Our fathers destroyed the empire evil - the Soviet Union - and gave hope for freedom back.
Our destiny is to send a collective farm dictator, stuck in the past, to the dump of history.
We will do this within a year. Together, as our people usually do.
Lukashenka will resign, and then real free elections will be held in our country.
After that, we will be surprised to remember today's dark times and wonder "What has prevented us from doing it earlier? It's so easy to respect ourselves, to be proud of our country, to decide how to live. It's so interesting to fight and win".
So let's make sure that these two months have been useful. Let's think about our future together and prepare for it now. Let's build our European Belarus together.