Everyone Is Tired of Lukashenka's Collective Farm Dictatorship
21
Andrei Sannikov
18.11.2019, 9:08

29,868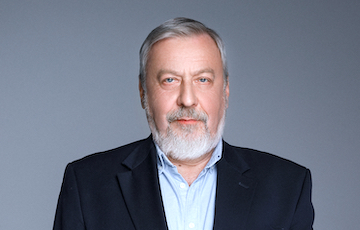 This camarilla is disgracing the Belarusians.
Leader of the European Belarus civil campaign Andrei Sannikov addressed the Belarusians:
Good afternoon!
My name is Andrei Sannikov and I love my Belarus and I am proud of it. I am ashamed of those scoundrels, who have seized power and hold it by force for so long.
I have nothing to do with them, I do not consider them legal authorities, I call them what they are - scoundrels and criminals. Nevertheless, I am ashamed of them, because it happens in my Belarus. Dictator Lukashenka and his camarilla disgrace the Belarusians all over the world. They just keep stealing from us and destroying our lives.
But I have good news for you: this regime will inevitably collapse. It always happens.
It depends on us when it happens. On all of us. Not only on the opposition, which sacrifices its health and lives, fighting for freedom and independence of Belarus. Independence cannot be defended by participating in the Kremlin's military manoeuvres against Europe, Belarus belongs to both in geographical and civilizational terms.
Freedom cannot be won without the help of business, which today is afraid to help change the situation in the country and change the criminal power, but continues to pay tributes to the regime. The regime "thanks" especially distinguished by raider seizures of business and prison sentences of its owners.
The European Belarus civil campaign named the main goal of political activity for all citizens of Belarus: change of power at all levels. We have not participated and do not participate in the so-called elections. We do not deceive the Belarusians.
In fact, European Belarus managed to use legal opportunities of the Yermoshina show to hold a boycott campaign, because we do not call for voting, but demand to return the elections to the people and confirm that we are ready to discuss this topic with the authorities, if there are people who cherish Belarus, not the dictator's interests.
You've seen free people from European Belarus under our national flags, our Pahonia with the flags of our campaign on the streets of the Belarusian cities. We once again see how much the collective farm dictatorship of Lukashenka has bothered you. We are glad that many of you remember our activity in 2010, carefully keep our materials at home and realise that the current campaign is a continuation of our activities and is based on the same principles: freedom and independence of Belarus, worthy of living a life for its citizens.
This campaign allowed us and you to get acquainted with new young leaders who share the principles of European Belarus and are ready to fight for freedom of our homeland. They will restore the economy and life of Belarus, destroyed by the war of the dictator with the people. You saw them on the streets of your cities, some even managed to break into the air of propaganda television. They are on social networks, video materials. Support them, stand next to them and we will succeed.
A very important event for Belarus is about to happen: Vilnius, a sacred place for the Belarusians, will honour the memory of Kastus Kalinowski and his citizens in arms. This is a clear message for us from our national heroes. The rebels themselves came out to us from the mountains in the hour of an increased threat of invasion to remind that Belarus and freedom are worth fighting for.
Heroes will be buried in a free country, in Europe, the place Belarus Belongs to, the city that is a treasury of our history and culture.
Freedom and democracy are the key to preserve our independence and bring us to Europe.
Long Live Belarus!