Mikalai Statkevich: Next Year Is Decisive For Our Country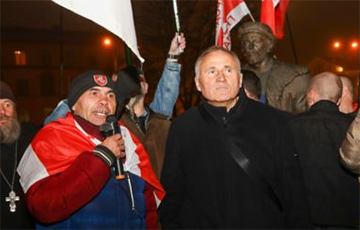 People choose winners.
A Meeting of Free People is held again in Minsk today, upon the initiative of the European Belarus civil campaign. One of the leaders of the Belarusian National Congress Mikalai Statkevich made a speech at this legal action in the Freedom Square:
- Dear friends! The upcoming year will become decisive for our country. Either Lukashenka sells us, or he will have nothing to feed the police with, and they will rip each other to pieces. The upcoming year will be decisive, and we will need to come out, and protect Belarus.
I believe we are going to make it, and there will be normal elections in Belarus in a year. Then, the people will elect those people who have burnt their candidates' certificates today, the people will elect Narodnaya Hramada candidates, who did the same a month ago. Because people choose winners. Let us not give usurpers and gangsters an opportunity to trade our country, with its many-thousand-year history. Belarus lived, lives, and will live! Long Live Belarus! Thank you."
Important to note, the first Meeting of Free People took place on November 15 in two Minsk squares at once, and gathered a thousand participants. The action was supported by independent parliamentary candidates, civil activists, and bloggers.