Alena Talstaya: Youth Came To Meeting Of Free People As They Ran Out Of Patience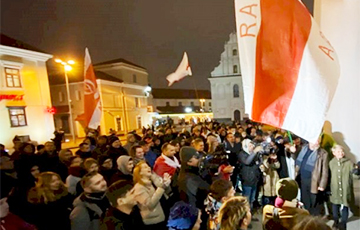 Even 5% of people in the streets is enough for a change of power.
Not everyone wants to leave their Homeland, so it is necessary to restore order and establish democracy at home.
Alena Talstaya, co-chair of the Razam solidarity movement, noted in a commentary to Radio Racyja that today Belarusian youth have new ideas and aspirations for change. And 5% of people in the streets is enough for a change of power.
- Normal people make the majority. And some of them went to the Meeting of Free People, as they have run out of patience. Young people have more zeal, more energy. They came. I was very glad to see these faces. As we see from the historical experience of other countries, a certain percentage, literally 5%, is enough. After 10% comes out, and then all the rest come out.
Alena Talstaya warns the current government against further pressure on students and workers. If Lukashenka and his subordinates continue to suppress people, this could end very badly for the authorities.
Important to note, on November 15 and 16 in Minsk, on the initiative of the European Belaru civil campaign, the Meetings of Free People took place - legal actions in the Freedom Square. Among the protesters were parliamentary candidates the so-called Belarusian "parliament", and their authorized representatives.