Pediatrician With 50 Years Of Experience: Doctors Even Cry, This Is So Difficult
16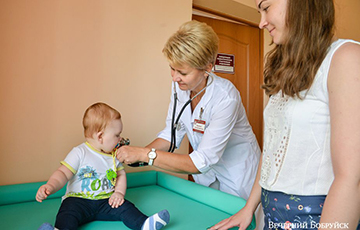 The shortage of specialists in this field has grown to 25.7%.
The International Pediatrician Day was marked on November 20. To talk about the profession, the difficulties and the joys associated with it, the Belsat journalists came to Sviatlana Charnyauskaya, a pediatrician with 50 years of experience.
Sviatlana dreamed of becoming a doctor from the age of 3, and today she is sure that pediatrics is not a specialty where random people stay for long. It requires overcoming difficulties, moral and physical.
"In winter, this is impossible, very difficult. 60-65 people at the reception, and 20-30 calls. Doctors even cry, physically it's very difficult," says Sviatlana Charnyauskaya.
The staff turnover in pediatrics is high and continues to grow. Doctors leave the profession or emigrate to other countries. There is a whole range of reasons for this.
The number of doctors who left pediatrics:
in 2017 - 12.77%;
in 2018 - 13.61%;
the deficit of pediatricians in the country - 25.7%.
"They are leaving. Poland is calling, the Baltic states. There is good money. Much better than ours. Especially since ... I get 500, because I have profound experience. And young people are coming, they are at the "base", and this is generally ridiculous,"continues Sviatlana Charnyauskaya, pediatrician.
But the most serious problem is not even in salaries and the complicated organization of labor.
"All our troubles, all our slaving away come from the top administration, city health committees, and the Ministry of Health. After all, it's they who treat us badly. The work, of course, is my favorite, and everything has to be endured for the sake of children, for the sake of moral satisfaction," Sviatlana Charnyauskaya adds.
In order for a pediatrician to have less problems, experts advise a number of measures.
Aliaksandr Sukala, candidate of medical sciences, explains:
"The first step is to take into account the needs of tomorrow when studying pediatrics today. Secondly, clearly define the policy. If pediatricians are leaving due to difficulties at work and low salaries, you need to think about how to make them stay. And third, we need good ways to teach pediatrician innovations throughout life. "
And what problems of domestic pediatrics do Belarusians notice?
"I have to wait a very long time under the office to get to the doctor."
"Everything is fine with us at the 9th practice now."
"Increase the number of doctors so that the number of patients decreases," Minsk residents say.
As for the quality of our pediatrics, numbers testify to it. Belarus occupies a decent place in many medical ratings. So, according to UNICEF, our country is among the ten countries in the world with the lowest child mortality.