Tadeush Kandrusievich: Kalinouski Was First To Perceive Belarusians As Separate Political Nation
1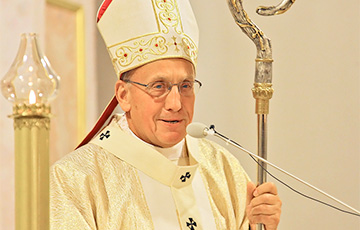 The head of the Catholic Church spoke at the Cathedral in Vilnius with tears in his eyes.
Today, the solemn reburial of Kastus Kalinouski and his comrades-in-arms - participants of the national liberation uprising of 1863 - is taking place in Vilnius. Head of the Catholic Church in Belarus Tadeush Kandrusievich delivered a speech at the Cathedral:
- The rebels were representatives of different peoples and religions, but they all fought for freedom. Among them was Kalinouski, the son of the Belarusian people. Therefore, this event is of particular importance for Belarus. Kalinouski was the first to perceive the Belarusians as a separate political nation. Nothing unites us like bloodshed in the joint struggle for freedom. It is symbolic that the rebels are reburied in Vilnius, a city that unites Lithuanians, Poles and Belarusians. May their souls have eternal rest! - Tadeush Kandrusievich said with tears in his eyes.
Charter97.org reports from the reburial of Kalinouski and the rebels live.