Blogger: Lukashenka Flew To UAE For Secret Treatment
266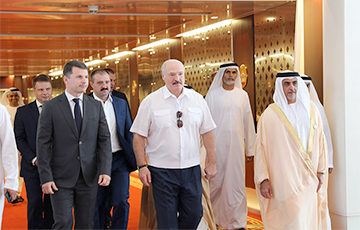 His cortege has been seen at the parking lot of a prestigious clinic.
Lukashenka is seriously ill, and he flew to the United Arab Emirates for secret treatment. This is what one of the Belarusian delegation members reported to the NEXTA channel on condition of anonymity.
- The "president" went straight from the airport to the prestigious Burjeel Hospital in Abu Dhabi, - the official said. - He's been staying in its VIP-wing for the fourth day already. Only local doctors are allowed to see Lukashenka, his diagnosis is strictly classified. The press service has been instructed to shadowbox - to send congratulations on behalf of Lukashenka to various figures. The delegation members are having a tedious time at the hotel at this time.
Burjeel Hospital in Abu Dhabi is considered to be one of the best in the world, and it often secretly treats politicians from post-Soviet countries. The news about Lukashenka's stay there was also confirmed by other sources: his cortege was seen at the parking lot of this hospital.
Lukashenka could, obviously, be treated in his special clinic in Zhdanovichy. But, according to officials, he does not trust the local doctors and is panic-stricken about an assassination attempt.
We remind that Lukashenka has been in the UAE for five days, but there are no reports of any official meetings in the media.