It's Time for Lukashenka to Become Concerned, Medical Professional Says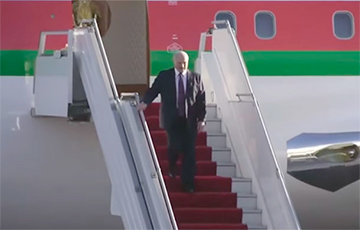 Some forces can cut even the highest ranks down to size.
When visiting the Republican Scientific and Practical Center of Oncology and Medical Radiology (RSPC), Lukashenka stated that he was not particularly concerned about the labour migration of Belarusian medical professionals.
"It doesn't bother us. The minister says that the problem of lack of medical professionals in health care institutions will be solved within two years," the dictator said. See how many of our compatriots, as well as medical professionals who grew up in Israel, come to our clinics. There are a lot of Americans, especially with cardiovascular diseases".
Is this true? Alena Tsereshkova, a medical doctor, a parliamentary candidate from the European Belarus civil campaign, answers questions of Charter97.org.
- According to even official statistics, doctors and nurses are among the scarcest specialists in Belarus. How would you comment on Lukashenka's words that the outflow of doctors abroad does not bother him?
- It's not news that Lukashenka is not much concerned about the fate of our medical professionals. Otherwise, the situation with human resources and earnings in this area would have changed for the better. My colleagues and I laughed when we discussed the recent proposal of officials to double the salaries of medical professionals until 2025.
One can even assume how it will happen. Every medical professional will have to work two times more. Then no one will worry about this issue and Lukashenka's promise will be met.
I am glad to know that Europe acknowledges the level of our medical professionals. Despite this, I believe that the quality of education in Belarus is generally declining. Gradually it also affects the quality of our medicine. However, the demand for our specialists abroad shows that not everything has been destroyed in domestic medicine.
The personnel shortage in Belarus has been lasting for many years. And when we face problems when people cannot be examined in time, it means that there is a problem of poor access to high-quality medical care.
In Belarus, the authorities say that medicine is free. But I believe that the concepts of "free-of-charge basis" and "access" are confused. The fact that I don't pay for a visit to a polyclinic doesn't mean that I get quality diagnostics and timely assistance there. Recently, access to high-quality medical services has been declining, including due to the outflow of specialists to other countries.
This affects Belarusians from several sides at once. First of all, we can train students, but when they come to work, and more experienced colleagues have already left - there is no one to teach them. It really hurts, because we have talented and motivated people.
Most of the practical knowledge should be provided in medical schools. But this does not happen, because university medical professionals are busy with other things and cannot pay due attention to young specialists. As a result, the best turn to the private sector or leave abroad.
If I were Lukashenka, I would still be concerned about the outflow of our medical professionals. The fact is that I do not believe that salaries in Belarus will raise enough so that it would be better to work in Belarus rather than, for example, in Poland. The economic situation shows that such a sharp rise in wages in the health care sector is not possible.
This problem should be solved comprehensively. To the authorities' disappointment, our medical professionals are intellectually advanced people. And every intellectual - one way or another - strives for personal freedom. People know that it will not be better here and this encourages some people to even change the field of activity. Negative selection is taking place, and medicine is losing more and more specialists. This is very alarming.
- The salaries of Polish specialists are about 3-4 thousand euros. How do the real incomes of Belarusian medical professionals look like against this background?
- It depends on which side one looks at. The level of salaries is, of course, a significant difference. But in some aspects, Belarus has even better social security than in Poland. For example, Poland has a much higher cost of kindergartens. Due to such indicators, a certain balance is achieved.
Prices for products are approximately the same in the two countries. But it must be said that the quality of products in Poland is better. At least because they are much less contaminated with radionuclides in Europe.
Therefore, the quality of life should be based not only on wages. I would not say that those who move to work in Poland will live much better.
But Belarusians want to live like people. Only a few people can afford to live a decent life under a dictatorship, and we all know who I mean.
- A sharp income gap between Minsk and the province is one of the characteristics of Belarus. What can you say about the situation of rural medical professionals, especially those who work under graduate placement?
- Forced placement of young specialists is one of the forms of non-freedom in our country. If the province had a living standard comparable to that of Minsk, it would be an excellent option.
There is a practice when "serious" patients from the province are sent to regional centers, or Minsk, or research institutes. People in the province, in any case, should be able to cope with more "simple" cases. Therefore, in this sense, young specialists should start their careers in small settlements.
But if a person lived in a large city, had a certain standard of living, and then lacks the basic needs - high-quality housing and food, there is no guarantee that a person will decide to devote all his or her efforts to master the profession.
- In addition to disrespect for professionals, scandals constantly occur in the Belarusian health care system, either with the unavailability of major medicines (iodomarine) or imported medicines, for example, for patients with cancer. How would you comment on these "experiments" with the health of citizens?
- The problem is that the Belarusian economy is under manual control. And while this continues, the "machine" will not move quickly. There are objective laws of the market and competition. If one ignores them, one won't keep an eye on everything.
One cannot track which medicine has disappeared, what necessary additional researches are required, what medicine can be replaced with its analogue and so on.
Belarus is driven by some invented conditional indicators, which should be met. Our authorities assess the quality of work by compliance with their demands, but not by the interests of the people. We fall in the same trap twice.
The thing is that one tries to adapt to the dictatorship instead of doing one's job.
- Can we say that there are two medical institutions in Belarus: Lukashenka and his entourage have a new hospital of 100 million euros, and ordinary citizens can sometimes be laid on the floor in the corridor and their children can die of a dubious vaccine?
- The gap in medicine for people and the "servants of the people" has always existed. Believe me, if there are no good doctors in the country, there will be no good medical professionals for the "medical commission". There are also certain personnel problems there. Yes, they still don't hit the more "vulnerable" part of the "servants of the people". But sooner or later, medical professionals who are far from the desired qualifications will sit in these offices. After all, specialists do not grow on trees.
Professionals won't go there to work. An intellectual can't be lured into a system where he or she will work as a servant. The new place of work does not mean a better attitude towards a specialist. In Belarus, medical professionals are often treated like a doormat.
My experience shows that some officials feel immortal. When they come to a doctor, they may start to abuse those who will operate on them in a few days.
We do not take revenge, but we know that there is God who can sometimes cut down even the highest ranks to size. Doctors treat everybody in the same way without any socially determined factors. Officials should realise that given the subspecialty, there are not enough geniuses for the "medical commission"!
- Your election program includes a medical reform in Belarus. In short, what should be changed first to make medicine available and of high quality in our country?
- We have a program of health care system development and various preventive programs. There used to be a slogan "Soviet medicine is a preventive medicine". If this principle is introduced into the modern Belarusian healthcare system, it would become much better.
The ground of our reform is a careful attitude to human resources and the creation of normal working conditions. Now both human and financial resources are not used quite rationally.
As in any other sphere, medical professionals are pressured by planned indicators. You will laugh, but, for example, paediatricians have their plans. If children do not get sick, it means that a doctor does not fulfil the plan for visits and it bears responsibility.
The health care sector should eliminate such nonsense. Saved nerves and resources would help specialists to improve the quality and availability of services.
Belarus should get access to modern technologies and encourage Belarusians to use them. Not only by purchasing expensive equipment for each village, but encouraging specialists to work there. The main thing is to teach specialists how to use this wonderful equipment.
Fictitious professional development should be stopped. Teachers simply work off their salaries on courses, and they listen to the information given them 20 years ago. It's perceived as a paid, albeit tedious, vacation.
Medical professionals should have an opportunity to evolve in the direction they choose. A clear system of certification for additional courses needs an introduction. All this will help medical professionals to rationally spend their time, and the state will save money