NEXTA Gathers Fans In Center Of Minsk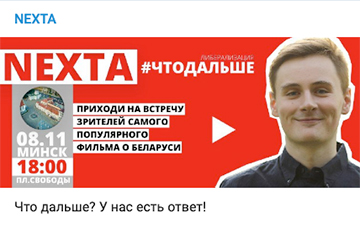 The time has come to decide something together.
Author of the film "Lukashenka. Criminal Materials", popular blogger NEXTA offers his supporters to get together in the center of Minsk. Several parliamentary candidates and authors of political channels joined him. Radio Svaboda has talked with initiator of the event Stsiapan Sviatlou on how it will look like.
"I am not a politician"
— Will it be something like a political action, with slogans?
— I am not a politician, this is not a political meeting, no one plans any revolutions. This is just a gathering of people. I have been thinking about this for a long time, when I read the people's comments, suggestions. An emotional appeal of blogger MozgOn, when he told that the time has come to decide something together, discuss problems, not just tell what is going on, has become a sort of a trigger.
— Why now?
— Because now a sort of a pre-electoral liberalization is going on. I talked to different parliamentary candidates, and they agreed to help. I asked not to connect it with electoral programs, so that no speeches of candidates would be heard there. They just formally provide a site for the safe gathering of people. It is premature to tell the names of the candidates, but some of them will be there.
— Maybe, some other bloggers have already supported you?
— I offered them to come. Among those who confirmed their participation dead-set are the author of the channel "Society Homel" with 40K subscribers, Siarhei Piatrukhin, Aliaksandr Kabanau, Minsk blogger Marat Minski; and I hope Eduard Palchys will also join us.
"I plan to participate in the action"
— How do you plan to participate in the action - will you come?
— I plan to participate in it, but I don't know yet whether I will be there in person. I have not disclosed the format of my participation yet.
— What if dozens of thousands people will gather? Your channel is very popular.
— I am not counting on a big number of people. This is an attempt to verify if the core of subscribers is ready to meet offline to discuss the current events in the country, and what happens next. This is a sort of a forum, a meeting of bloggers and their subscribers. I am not going to advertise the event broadly.
— Will there be speakers with a megaphone?
— There will, but this is not the most important thing. The people will meet each other, mingle, talk. There will be a "bank of ideas", to which everyone can contribute. There will be the contest for the best idea.
"The youth are unaware of political issues"
— Has your film "Lukashenka. Criminal Materials", which gathered two million views on different platforms, become a trigger? Have you expected such coverage?
— I haven't expected such number of views. However, moves started after its release. I have not expected such effect. It also caused certain criticism, but people were asking what to do with this. Will we fall asleep for another 25 years or what? The film touched upon a certain nerve in the people, in the officials.
— How do you think — what is the reason of such success of this film? As, similar movies were released before, "Belarusian Dream" and others…
— The latest movie was released in 2011, precisely the "Belarusian Dream". YouTube has developed a lot since then, many young people came there. Most of those who liked the film are youth in the age of under 25. Many didn't know about these problems, so they were shocked. The algorithms of YouTube have changed, it started promoting movies. The video has been watched in all social media by 2 million people, 1,4 of them - on YouTube.