Meeting Of Viewers Of NEXTA's Film "Lukashenka. Criminal materials" Held In Minsk
79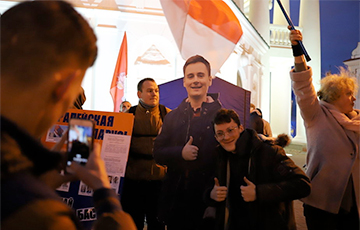 (updated) About 2000 people gathered on the square.
The most popular blogger of Belarus, Stsiapan Sviatlou (NEXTA), the author of the film "Lukashenka. Criminal materials", which gained more than 1.5 million views on youtube.com and about 600 thousand in other social networks, held a meeting of subscribers in Minsk.
From the very morning there was a legal picket of democratic candidates from the European Belarus civil campaign on Freedom Square.
The Charter97.org website reported the discussion of NEXTA's film about Lukashenka live.
19:22
The rally is coming to an end. We would like to thank everyone who was with us. We remind that the coordinator of the European Belarus civil campaign, Yauhen Afnahel, called for a meeting on Kastrychnitskaya Square in Minsk at 18:00 in a week's time, on November 15.
Both Radio Svaboda and Belsat broadcasted the event live.
19:14
People chant "Freedom to Political Prisoners". Various topics are raised at the rally: social topics, problems of education.
19:13
- Friends, my name is Yauhen Afnahel, I would like to thank Stsiapan for a great film. Several thousand people gathered on this square. Thank you. The film was watched by two million Belarusians. Such a large number of people have never seen a documentary film in the history of Belarus in such a time. This is a record. On behalf of the European Belarus campaign, which I represent, I propose to gather a week later, on the 15th of November, at 18:00 on Kastrychnitskaya Square in Minsk. Let's try to make the number of people on Kastrychnitskaya Square not a couple of thousand, but many more. I know that together we can do it. The authorities, who are afraid of us, cannot stop us. They thought that there would be no speakers - they are here. They thought we wouldn't show Stsiapan's performance - you all saw it. And we will gather at Kastrychnitskaya Square. Thank you, Minsk. Long Live Belarus!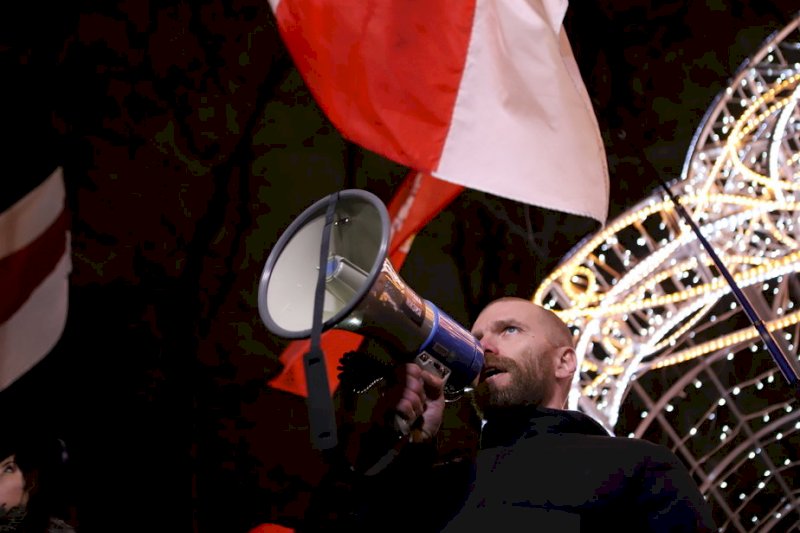 19:05
- I want freedom. We have a state and we have life. There is only one thing left to join them together so that we can live, not survive, - Andrei, who came to the event, said.
18:59
Illia, who came to Freedom Square, tells us why he has joined the rally:
- I came because our country needs changes. Earlier I was not so actively involved in protests. I am struggling for us all to live in a prosperous Belarus.
18:51
Stsiapan Sviatlou addresses the audience:
- They said that I would not come.
But, as you can see, today I am with you! In order to say thank you very much to all of you! Today you have shown that you exist not only in the Internet and that they must regard you. Today you have shown that there is nothing to be afraid of! After all, the truth is on our side! Those who lie must be afraid.
And this is just the beginning. Hard and painstaking work ahead. But it is important that we are on the right track. That you know what you want. You know, #what's next. Thank you for your ideas, thoughts, comments. They are heard not only by us bloggers, but also by those who now call themselves "official authorities". Remember this. Remember, don't stay passive and indifferent anymore. It is time to take responsibility for the future of the country.
Today you offer your ideas. Personally, I propose to start with oneself. Get involved in any active work. To fix the lawlessness, to achieve observance of the lawful rights, to speak about the real situation with acquaintances, friends, neighbors, old people, dogs and cats.
And it doesn't matter who you are - student, worker, athlete or official. It doesn't matter which language you speak. It is important that we are all together! We, the Belarusians. And there are millions of us, as Liavon Volski sang, as many as you want!
So we stay in touch! We stay together! Long Live Belarus!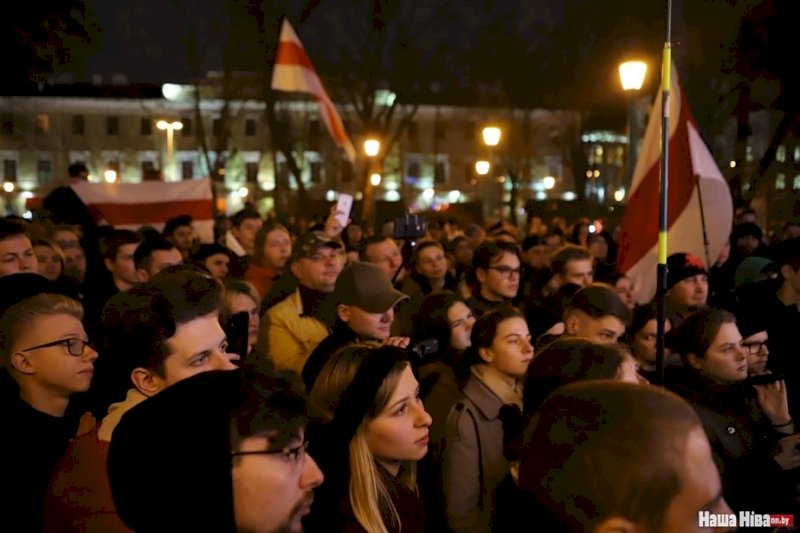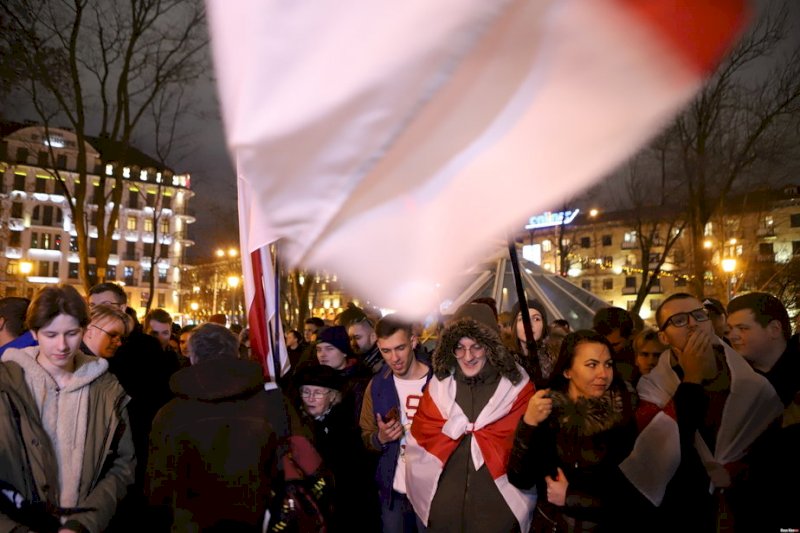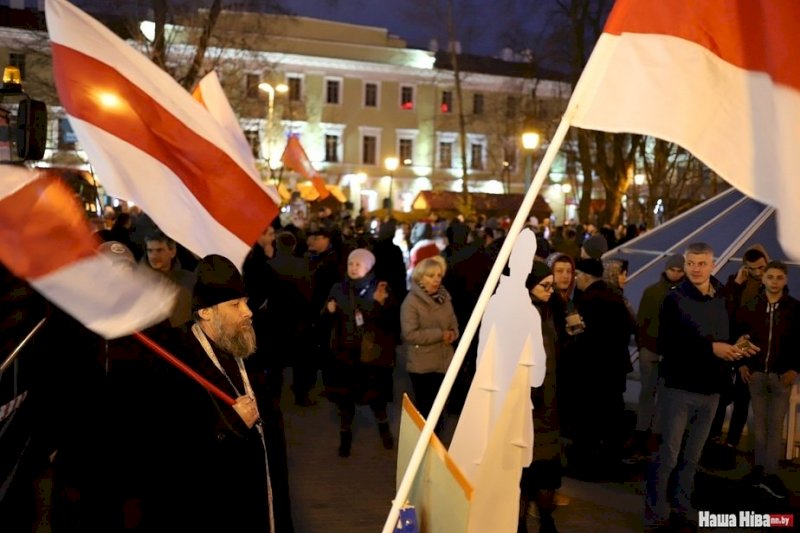 18:50
"Let's not allow the bald tyres to come to power," - the young participant of the rally says.
18:49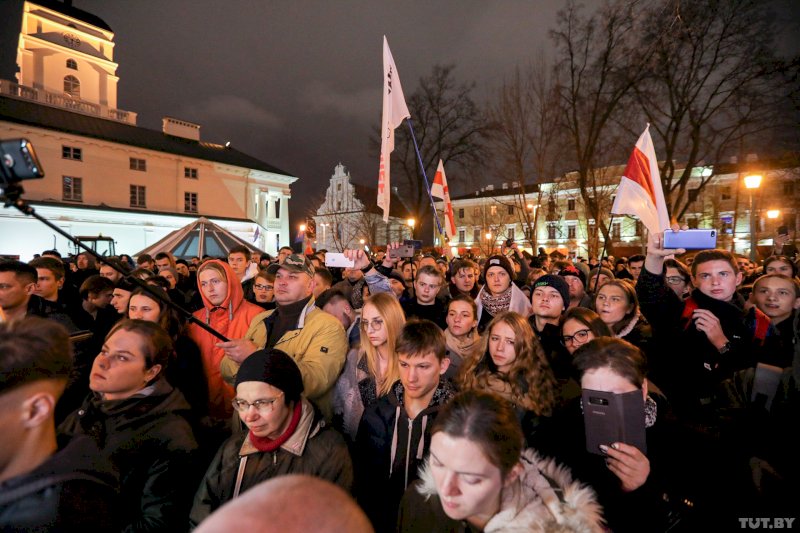 The activists say that now blogger NEXTA will appeal to people.
18:46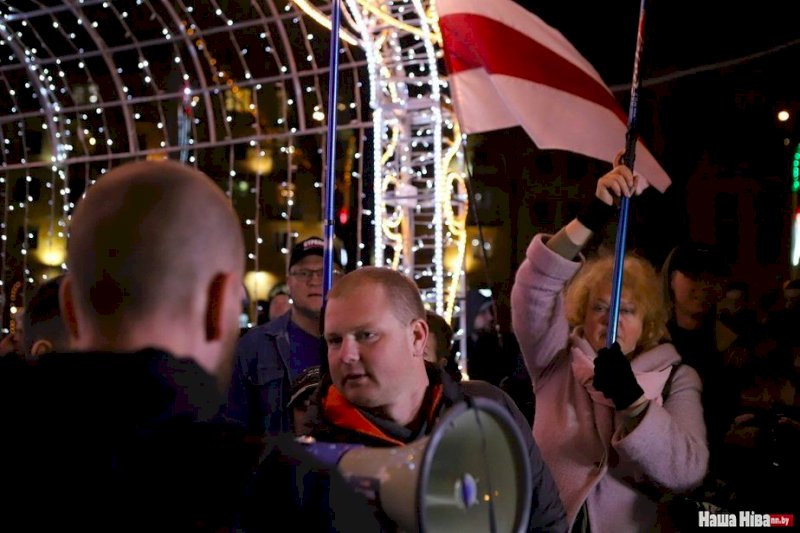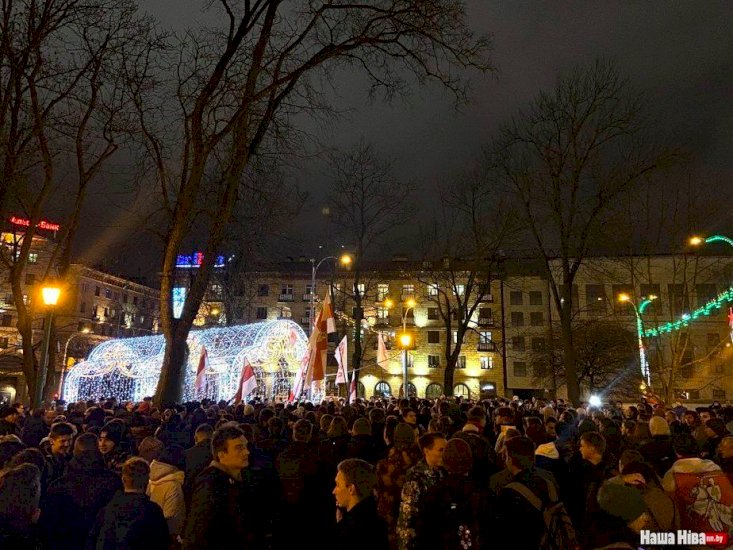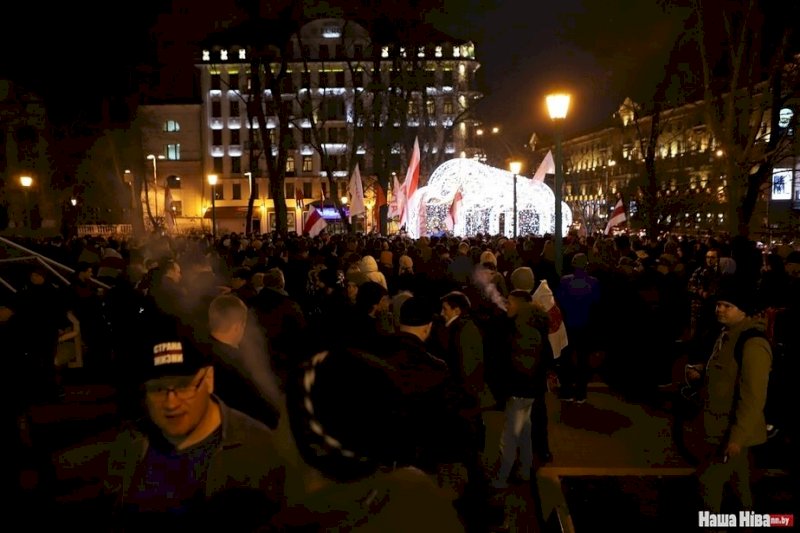 18:39
"Let us remember that we are Belarusians and we are a nation. And we will win. Let's support the independence of our country," - youth activist Arseni Dziadok says.
18:35
"I want to say thanks to the people who aren't afraid of these bastards and have come to the square," - the retired man appeals to people.
18:33
"Are we few? We are not few. The authorities are afraid of us. We must live in European Belarus. We must live a decent life," - activist Alena Talstaya.
18:30
Activists are deploying a huge banner with the inscription NEXTA.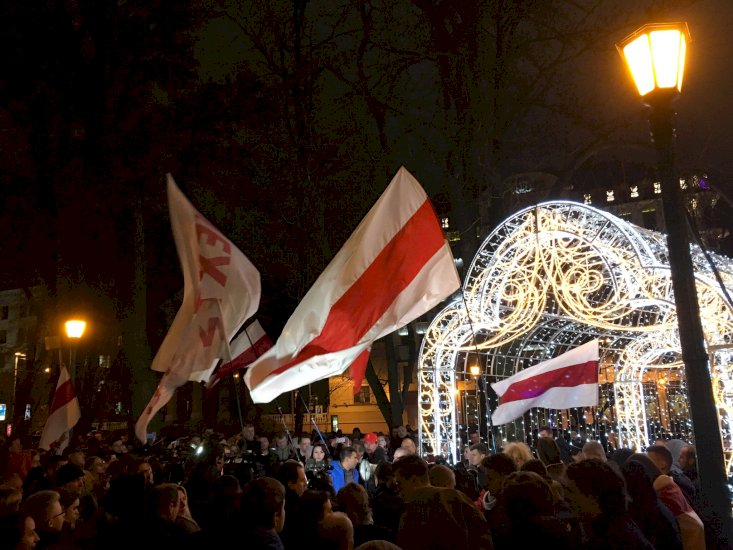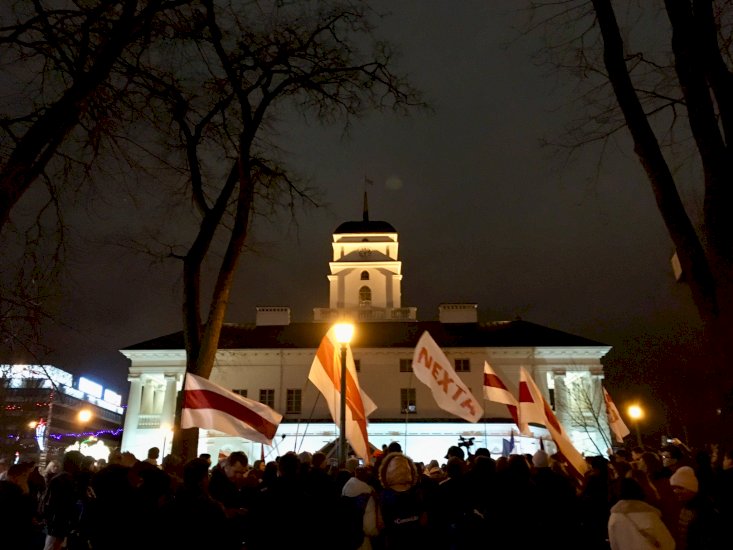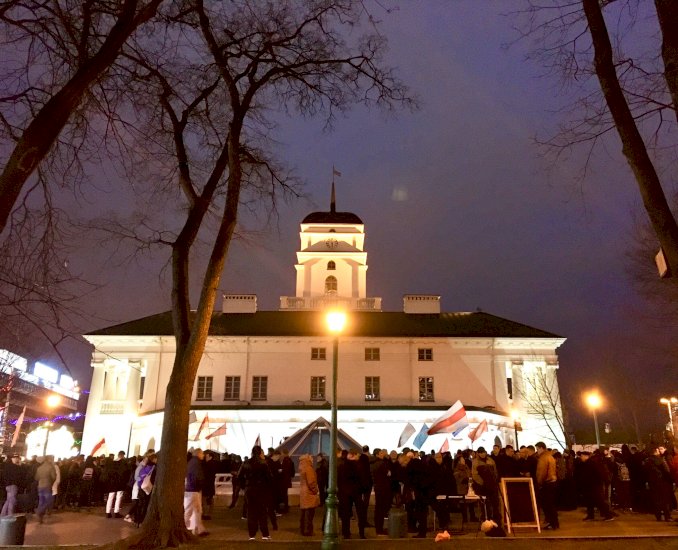 18:22
"Thank you, Stsiapan, for making the film. But people have a question: "What's next? Shall we make a new film? New "elections"? What shall we do?", - blogger MozgON addresses people.
18:18
There are already more than 1000 people in Freedom Square.
18:17
"I was dragged inside the town hall, but the authorities were afraid that the doors would be broken down and I'd be released," - Andrei Sharenda, coordinator of European Belarus, who was detained by the men in plain clothes, says.
18:16
"The main idea of Stsiapan Sviatlou's film is what to do. This is a question that we must all answer," - European Belarus activist Andrei Voynich says.
18:14
"The idea to discuss the film by Stsiapan Sviatlou is absolutely right. It scares the bandits in civilian clothes," - coordinator of European Belarus civil campaign Maksim Viniarski says.
18:12
"I have a newspaper with Lukashenka, who says that we live in the country for life. I do not see that we do live in this country," - blogger Mikalai Maslouski says. People welcome his words with applause.
PHOTO: TUT.BY
18:06
Several hundred people have gathered on the square. They chant: "Long Live Belarus!" and "We Believe, We Can, We Will Win! ".
18:00
The policemen in the civilian clothes have broken the column, the pushing has started, people shout "Shame" and protect each other.
Зьбілі і затрымалі Андрэя Шарэнду, які хацеў усталяваць гукаўзмацняльную тэхніку ў корабе трактара, што стаіць ззаду ратушы.

Тэхніку разьбілі pic.twitter.com/4WiWz3C36D

— Радыё Свабода (@svaboda) November 8, 2019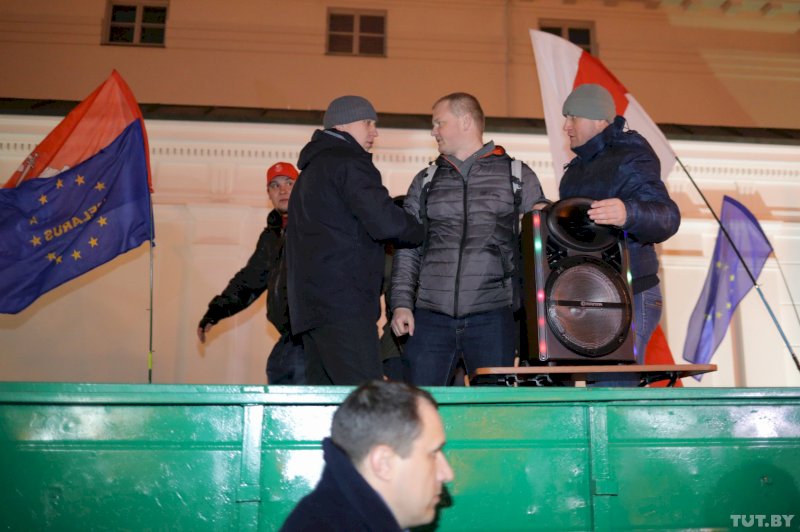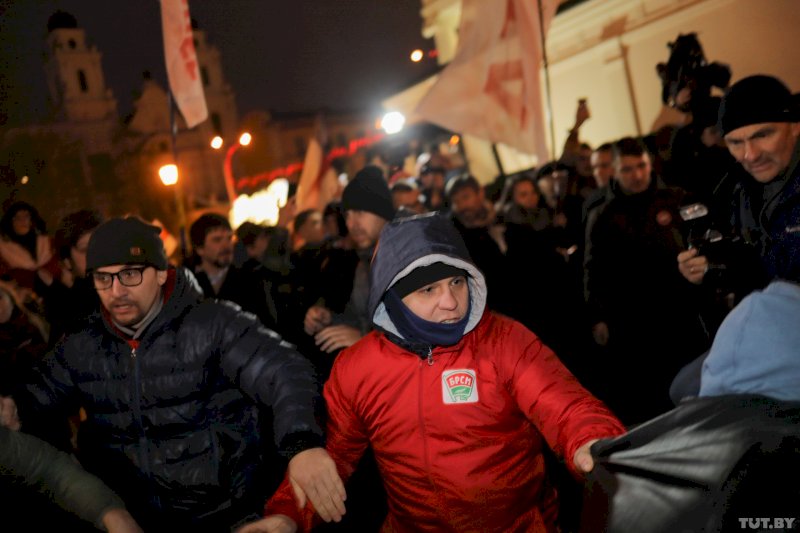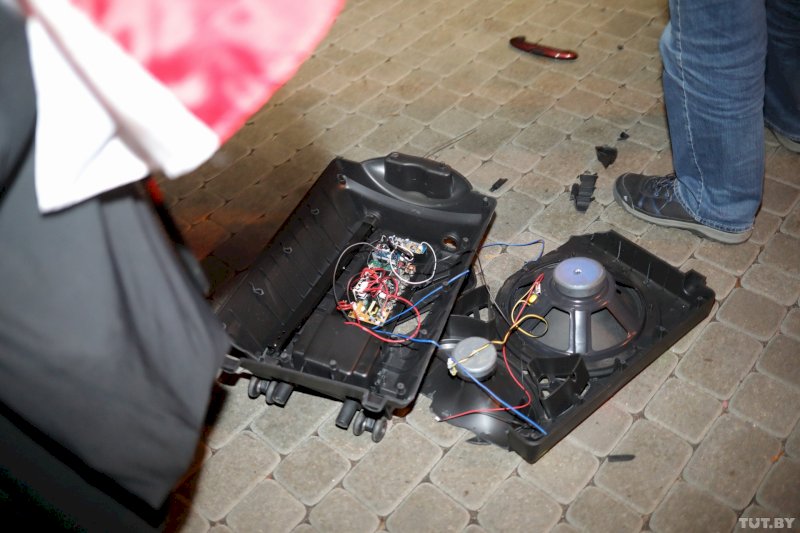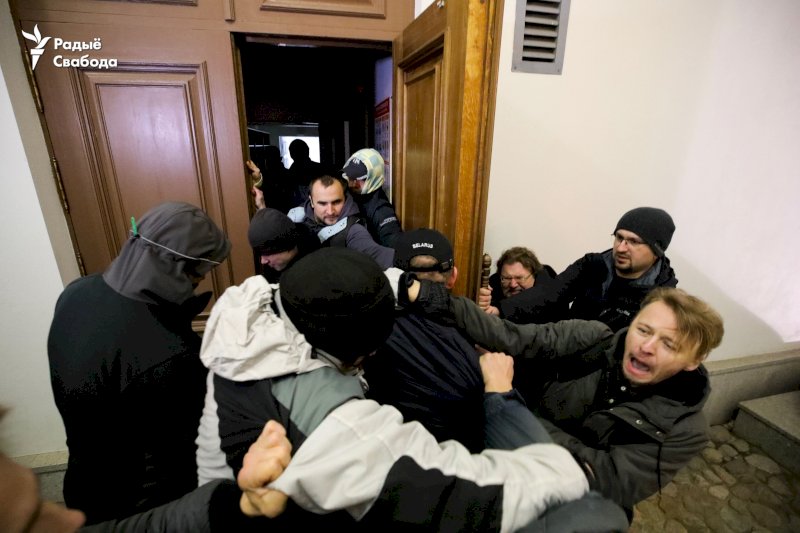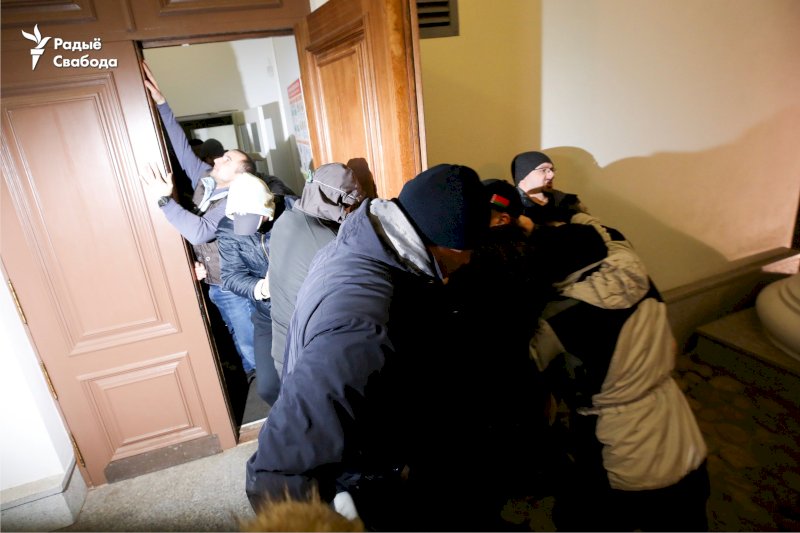 17:59
"Mom was crying, Grandpa was crying when we saw the film by NEXTA. Many thanks to Stsiapan for making such a great movie. Young people understand perfectly well that something needs to be changed," - one of the participants says.
17:58
Journalists note that there are a lot of new faces on Freedom Square today.
17:55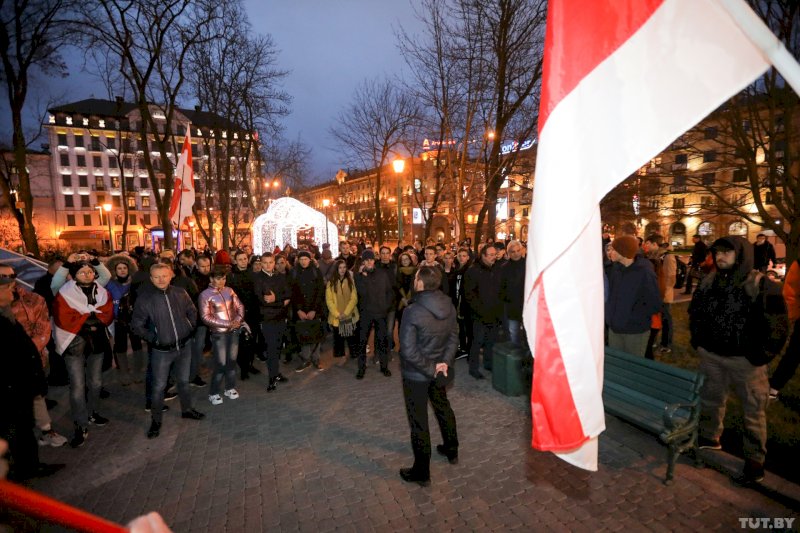 "I'm subscribed to the NEXTA Telegram channel, I wanted to see how many of us are offline. And I took the first step. Each of us can do his or her own little deed," - Aliaksei, who came to the film discussion, says.
17:47
"Let's get together and solve problems. Stsiapan Sviatlou's film is a historical moment. The power must take responsibility", - blogger MozgON says.
17:47
"Young people are all in phones, no one watches BT. The king is naked. Lukashenka simply has no response," - blogger MozgON says.
17:45
More than 100 people have gathered on Freedom Square. The Dzieciuki band plays from the speakers.
17:38
"I'm already there. What about you?" - blogger NEXTA wrote in Telegram-channel.
17:37
There are a lot of people in the square with national symbols and flags. People of different ages are present.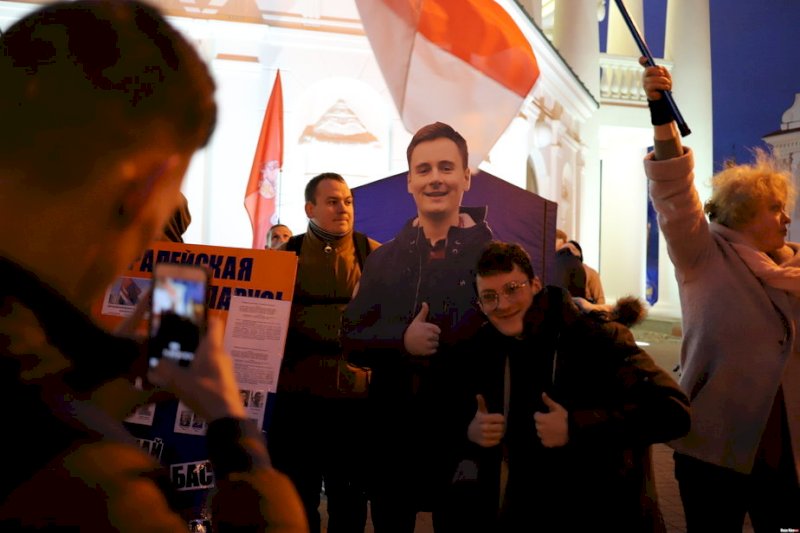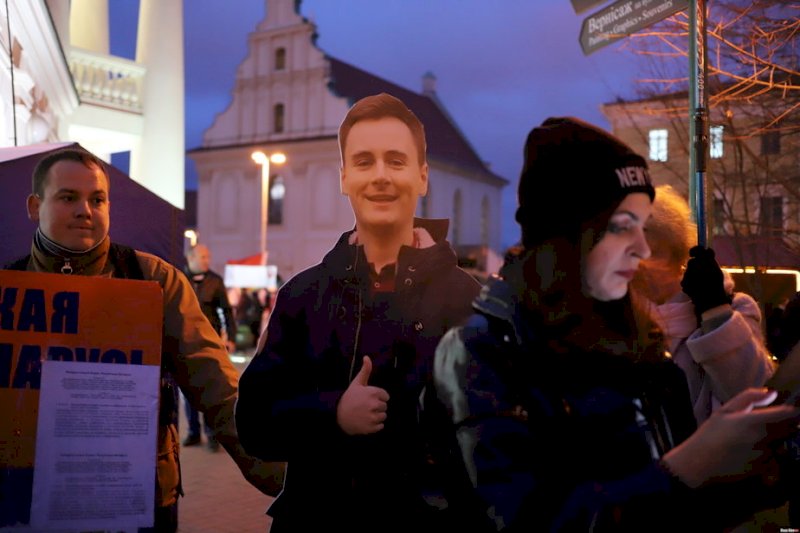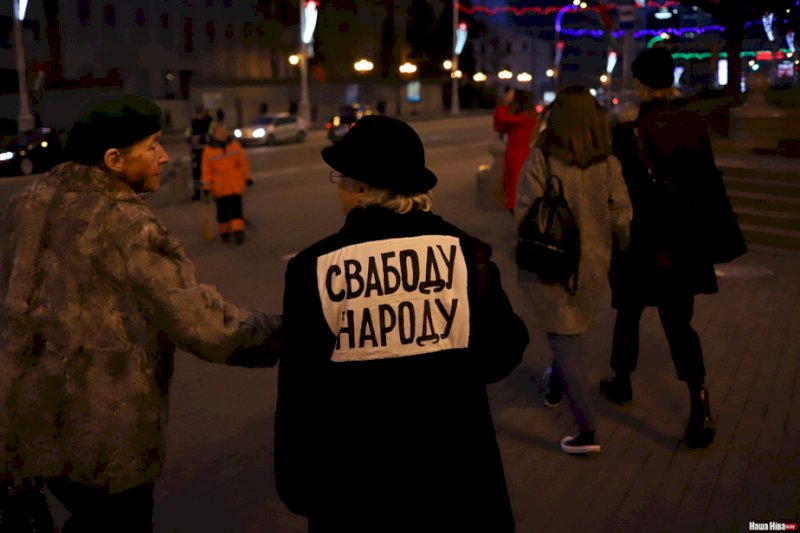 17:19
And NEXTA blogger himself, as promised, is present at the picket. There are even two of them.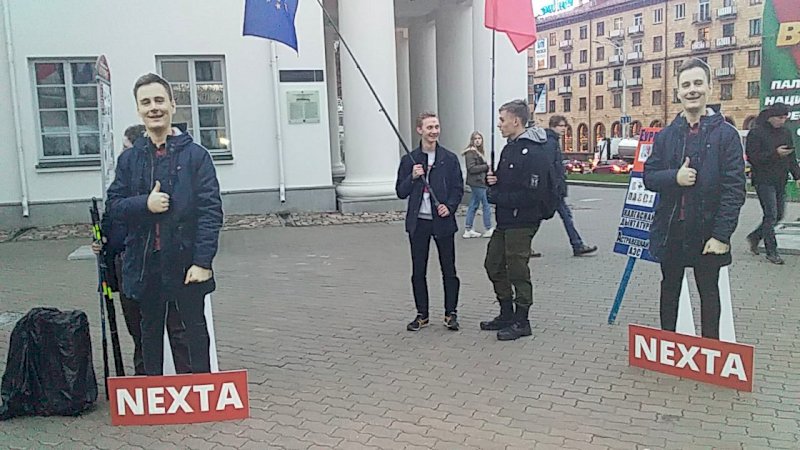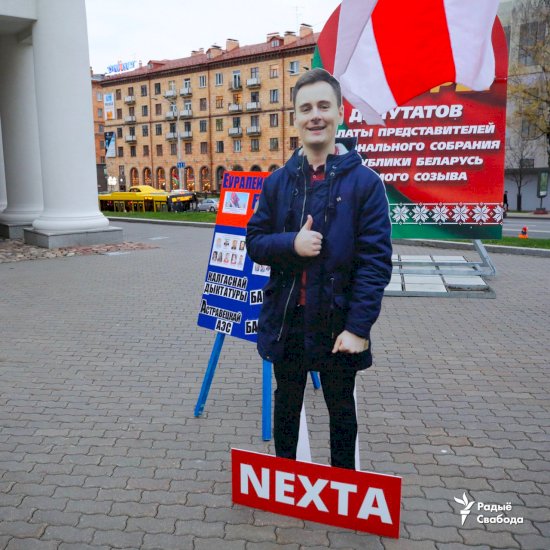 17:18
People arrive for the meeting of NEXTA subscribers.