Makei Came To Get Burger From Timati's Hands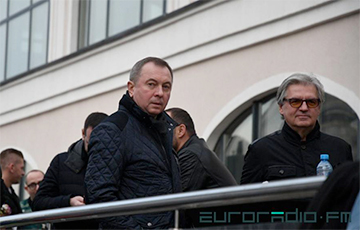 The Belarusian Foreign Minister wanted to get a burger from Putin's rapper.
On November 7, Minister of Foreign Affairs of Belarus Uladzimir Makei visited the distribution of free burgers in the residential quarter of Mayak Minsk.
The Black Star Burger Cafe, which holds this event, has recently opened in the Dana Mall shopping center, which is located nearby. The burger shop is owned by the Russian rapper Timati, and Dana Mall and Mayak Minsk are the development projects of Serbian businessmen, the Karichi brothers.
A huge crowd gathered on the square in front of Mayak Minsk. There was a show program, the people were waiting for Timati, who was going to hand out burgers personally. And the Euroradio photographer noticed Uladzimir Makei in the VIP-zone.