Pavel Seviarynets: Young People's Energy At Minsk Rallies Reminded Spring 1996
2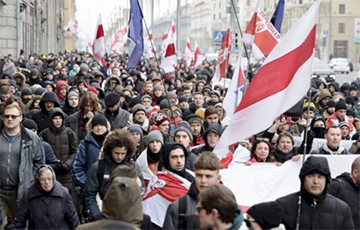 There were some very encouraging events during the two days of protests.
On December 7 and 8, Minsk protested against integration with Russia in support of the independence of Belarus. One of the main organizers, co-chairman of the Belarusian Christian Democracy Pavel Seviarynets told Radio Racyja about the results of these events.
- How do you feel after this marathon?
- I feel great. There is a feeling of work done. And there are things that inspire.
- Though, the voice is still a little bit strained.
- My voice got strained because I had to guide the procession not only through the equipment, but also just using my live voice. But it's professional, from the time of the Young Front. A Belarusian politician should be able to talk to people in the street.
There were some things that inspired me very much during these two days. First of all, a lot of young people took to the street. I believe, 80% of the participants in those rallies were new to me. They are people of the generation who have grown up in an independent country. And finally, this generation of Independence took to the streets. They had such an energy, which reminded me very strongly of spring 96, spring 97 - the spirit of struggle for freedom.
Indeed, these rallies differed from what we have seen in recent years as regards the dynamics, sound, movement.
- Do you evaluate positively what happened in Minsk?
- Positively, of course. There could have been more people. However, it was an unauthorized action.
- There were no arrests after all.
- Yes. But as for the police's behavior, I have questions. Why did they push people off the stairs of the Palace of the Republic, why did they disrupt the speech of Uladzimir Arlou, a man who, one might say, had brought Independence to this country on his shoulders? Thanks to him, you are not at war in Libya, Major. You are your young "informants" are pattering in Russian that this rally is not sanctioned, but these people may have saved your life and that of your children. I just want to tell them: do not cut the bough you are sitting on. You can cut it down and then go to Syria or Donbass and return in zinc coffins.