Journalist Discovers Huge Russian Military Base On Border With Belarus
33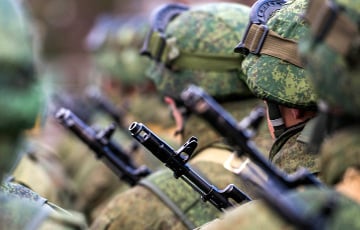 What's going on?
This is stated in the investigation of the head of the Belarusian service Informnapalm, journalist of the newspaper Novy Chas Dzianis Ivashyn, reports Belsat.
In the publication "Military Pressure? Russian troops on the border with Belarus ", the author draws attention to the transfer of the Russian storm troops directly to the border with Belarus, and the creation of a full-fledged offensive line. Moreover, everything, according to Ivashyn, indicates the absolute priority of the Belarusian strategic direction.
"From May 2018 to October, until recently - this is the latest information available from satellite, satellite images - it is clearly seen how literally over the past 1.5 years the military base in Klintsy has actually doubled. If previously it occupied 25 hectares of land, now it is already over 60 hectares. At this moment, two motorized rifle units are stationed there, numbering about 70-80 tanks, more than 170 armored combat vehicles - BTR-80, BTR-82A, and BMP-2.
In addition, the 59th Tank Regiment is very actively deploying in Yelnya, Smolensk region, which is 100 km away from the border with Belarus! And this is quite a formidable fist. Once again, I note that this is an absolutely strategic direction, Belarus. [...] When Belarus approved the so-called union treaty with Russia in 1999, the units that were previously deployed in Yelnya - they were not in Klintsy, we note - they began to curtail at the beginning of the 2000s. And for the last time before the start of the Russian-Ukrainian war they were not there at all! [...]
These full-scale deployments, which began in May 2018 and continue even at this time, while we are talking, fully coincide with the intensification by the Russian Federation of all measures to unfold the so-called Union State. I believe that this is not a coincidence ... ", Dzianis Ivashyn told Belsat.
However, Russian political analyst Pavel Luzin believes that the strengthening of Russian troops on the border with Belarus is not connected with pressure during integration negotiations. See the comment of the political analyst in the video.