BelTA: Lukashenka And Putin Agreed On 28 "Integration Documents" Out Of 31
43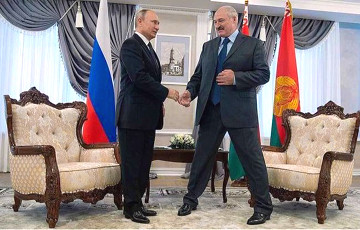 (updated) They have not agreed only on gas, oil and taxes.
Belarus and Russia have three sets of issues left to resolve. This was announced to journalists by Minister of Economic Development of Russia Maksim Oreshkin after the meeting between Aliaksndr Lukashenka and Vladimir Putin in St. Petersburg, BelTA reports.
He specified that they concern oil, gas and tax spheres.
"As a result of today's negotiations, there are three groups of issues that block the final agreements. These are agreements in oil, gas and tax spheres. These are three groups of issues that we still have to resolve in order to finalize all the action plans," - Maksim Oreshkin said.
According to him, Lukashenka and Putin discussed what had been achieved since the meeting in Sochi. "We have had a very intense and very effective work with my counterpart - Dzmitry Krutoi (First Deputy Prime Minister of Belarus. - note) on this issue. We were following the agreements that were reached in Sochi. We had been given a number of instructions. We have taken another step forward in terms of coordinating the issues. We have fully agreed on issues in agriculture, communications, customs, alcohol market regulation," - the minister said.
We remind that the Belarusian civil society and the opposition protest against the secret talks between Lukashenka and Putin. The Belarusian opposition urged the citizens of the country to participate in a rally to support the independence of Belarus at Kastrychnitskaya Square in Minsk today at 18:00.