"I'm Conscious About Issue Of Independence"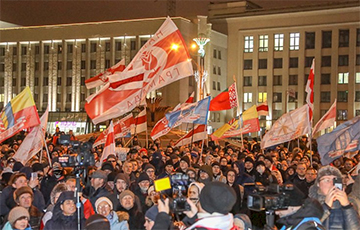 The participants in the protests against "integration" explaine why it is important to participate in peaceful assemblies.
Yesterday, two rallies in defense of Belarus' independence took place in Minsk. The first was a rally at Kastrychnitskaya Square, which started at 12 pm and then moved to Independence Square. At 3 p.m., a human chain lined up on Independence Avenue, Radio Racyja reports.
According to the rally participants, they took to the streets to speak out in support of our country's independence:
- Whoever wants to be with Russia - we don't mind, let them go, there's a lot of land there, there's enough space. I want to live in my country! I agree to support each other economically with Russia, but my country is Belarus. My grandchildren live here, my land is here, I don't want the Kremlin.
- We can hardly expect a better economic situation. Plus, it's dangerous for families where guys grow up. They'll be taken to some hot spots, which are numerous in Russia. Just like it was in Afghanistan, it might happen again now.
- I have come because I believe that peaceful assembly is the right of citizens. I am also very concerned about the issue of independence.