Svetlahorsk Resident: It Is Time To Wind Down Power Of Those Lovers Of Maybachs And Residences
2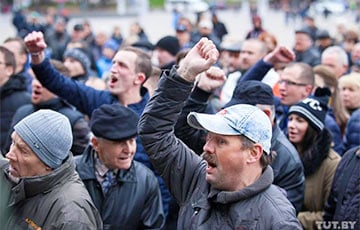 And we must change the power as soon as possible.
The authorities have allowed the construction of hazardous industries in many Belarusian regions. The saving on construction materials and technologies affect the health of people. The most eloquent example is Svetlahorsk. The townspeople come to the main square to protest against the local cellulose plant every Sunday. Aliaksandr Mikhailau, an activist of the European Belarus civil campaign, told Charter97.org why Svetlahorsk took the last place in the ranking of Belarusian towns, published last month:
- We see the reason every day, everyone who lives here knows about it. We became convinced of it during the "parliamentary campaign". Townspeople, who came to the pickets of European Belarus, were talking about low wages, enormous queues in polyclinics, and discontent with the authorities in general. But special attention was certainly paid to the overall trouble of Svetlahorsk - the bleached pulp plant. The authorities say that it does not cause any harm to people's health and the environment, but everyone knows that this is not true.
The toxic waste from the plant is released into the atmosphere every day. This is the main topic of conversations in Svetlahorsk. In the street, in transport, in public places - the people are discussing the plant everywhere. Constant headaches, sore throat, nausea - these are already familiar things for us. What kind of health can we talk about if we can't push through in our clinic right now? Svetlahorsk recently took the last place in the ranking of towns in the country. Everyone who can flee from the town. The rest are just slowly poisoned. The authorities don't care. Nobody - neither environmentalists, nor journalists - is allowed near the plant. It is impossible to find out what really happens there.
- The plant continues to operate, and the authorities say that everything is fine. What can we do?
- Either we will change the power in the near future, or we will simply not be there. Those who will be lucky enough - they will leave, the rest will be gradually poisoned by harmful industries, low-quality products, and for good measure - a nuclear power plants by the side. This is not only true for Svetlahorsk, it is happening all over the country. He does not consider us people: he trades our land and our health for the sake of new Maybachs and residences. It's time to wind this down, we have no other way out.