Svetlana Alexievich: I Saw Them Sending Russian Soldiers To Ukraine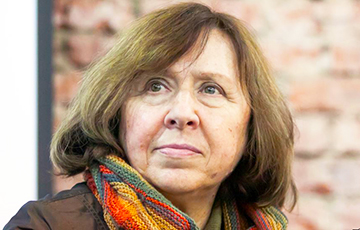 The Nobel Laureate in Literature has spoken out about her attitude to the Russian aggression in the east of Ukraine.
Famous Belarusian writer, Nobel Prize winner in literature Svetlana Alexievich told the HB magazine about her attitude to the Russian aggression in eastern Ukraine.
She shared an episode of her life when she saw Russian soldiers being sent to Ukraine.
"I saw for myself how the brass band was seeing volunteers off to fight. I asked: "Where to?" They said: "To Ukraine". And the young guys, headed by a priest, were going to Ukraine to fight. I was horrified to see all that," - the writer said.
Alexievich notes that she can't understand the motives of Russian volunteers going to war against the Ukrainians.
"I remember when I came to Moscow, got in a taxi and how angry the driver was about Ukraine. And I answered him - about Donbas, about the Crimea, what I think. What a rage it was! How he didn't stop the car and didn't throw me out at all, I don't know. I said to him when getting out: "You know, I was in Ukraine, where you came to, and the people there do not have such anger. Yes, they do not love you, they do not want to see you on their land. But there is no such rabid anger". Here he is, this man without an idea, he has found himself a new idea - in hatred," - she concluded.