Putin "Got Pumpkin" From Belarusians
10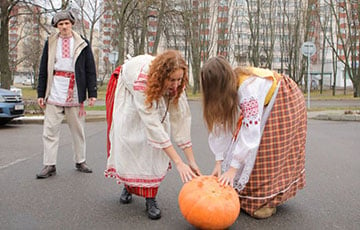 The Russians were reminded of Article 1 of our Constitution.
"You mustn't be afraid - you must make courageous decisions," - this is what the Russian Prime Minister said yesterday about the future integration agreement. At the same time, Lukashenka, who also spoke a lot yesterday, assured that there were fewer and fewer controversial issues between Moscow and Minsk, Belsat reports.
Belarusian girls from the Fresh Wind campaign have rolled a pumpkin to the gates of the Russian Embassy, with which Belarus is drawn into a close alliance.
"If the groom wants to get married, but the girl disagrees, the girls rolls out a pumpkin. That is, we show that we agree to be friends with everyone, but do not want to live in someone else's house," - Siarhei Bulba from the Fresh Wind civil campaign says.
The campaign activists wanted to pass on a message to the ambassador in defense of our independence. The document says that a significant part of the "union agreement" provisions contradict Article 1 of the Constitution, according to which Belarus is a unitary state with its own domestic and foreign policy. Dmitry Medvedev "calmed down" yesterday that Russia had also partially reduced its sovereignty by joining the Eurasian Union.