Yarmoshyna Announces Her Resignation
44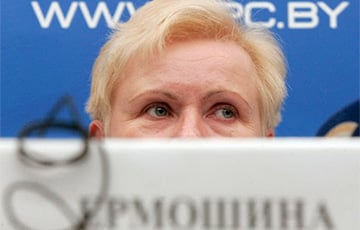 Belarusians can speed up this process.
Talking to journalists today, Lidziya Yarmoshyna reported when she leaves the post of head of the Central Election Commission, naviny.by informs.
According to her, the current CEC's term of office expires at the end of 2021. "But since the election campaign for the election of "deputies" of local "councils" will be held at the end of 2021, it has to be started and conducted by the new CEC," - Yarmoshyna stated.
She stressed that it is impossible to change the composition of the CEC during the election campaign, even if the term of office expires.
"Therefore, in spring 2021, I'm going to address Lukashenka with a proposal to change the CEC composition early, that is, six months before the expiration of the term of office," - Yarmoshyna added.
However, as the "parliamentary campaign" has shown, almost 95% of Belarusians are against Lukashenka. After the "elections," online campaigns were launched independently, where the Belarusians demand not to let the dictator for another term. Independent political scientists and media note the growing protest moods as the presidential campaign of 2020 approaches. Therefore, the CEC head and the long-term falsifier of the elections may have to resign much earlier than the term announced to her. But the Belarusians may decide to speed up this process.