You Did Well, Belarusians!
20
Pavel Seviarynets
9.12.2019, 9:11

10,149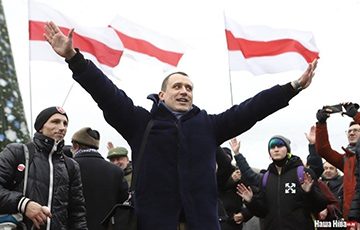 For the first time in recent years, "Long Live Belarus!" has been filled with new meaning.
I got convinced once again that there are only two guarantors of independence of Belarus - God and the Belarusian people.
The perfect weather, absence of detentions, 70-80% of young people, good sound and dynamics of processions, landscapes of Minsk with white-red-white flags - for the first time in recent years "Long Live Belarus!" filled with new sense.
You did well, Belarusians. First of all - those who came, but also those who was posting on social networks, who was supporting and praying.
Thank you, people!
You said loudly to Putin, Lukashenka and the whole world: THIS IS OUR COUNTRY!
Even when the negotiations have failed, thousands of people take to the streets for unauthorized rallies and marches - and show that the Belarusian people are against the very fact of secret negotiations. If there was a real threat of an anschluss, I'm sure there would be much more in the streets.
If we hold on to each other, we will win!
They, the Kremlin and their protégé, are afraid of the descendants of the Poles and Lithuanians.
During these two days Moscow also heard the words of many thousands: "No alliances with imperial Russia!"
Friends, we should inspire and awaken this country. Talk and sing in Belarusian. Fight for independence in a creative way - in a way that nobody does, in a way that hasn't been there. Prove to everyone that we are a great cultural nation.
And - come to Kalinouski Square (Kastrychnitskaya Square) at 18.00 to protest against another card-playing where our country is a stake.
Who do you love?
Pavel Seviarynets, Facebook