Uladzimir Arlou At Square: Do You Remember Rebels' Codeword?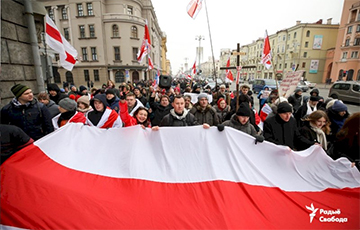 The famous writer reminded the rally participants about Kalinouski's heroes and the BPR founders.
On December 7, a rally to defend the independence and sovereignty of Belarus took place in Kalinouski Square (Kastrychnitskaya Square) in Minsk. Several thousand people gathered at the square. The organizers of the rally for independence urged Minsk citizens to come to Kastrychnitskaya Square.
Famous Belarusian historian and writer Uladzimir Arlou spoke at the rally:
"There are more than 3000 nations and nationalities in the world. And only about 200 of them managed to create their own independent states. This is our greatest value. I remember our white-red flags in Vilnius two weeks ago at the farewell ceremony in memory of our heroes Kastus Kalinouski and his comrades-in-arms. It was then, with this uprising, that the road to Belarusian independence began. Do you remember the codeword of the rebels? "Who do you love?" "I love Belarus!" "So do I!" This is our national idea. We have with us our rebels in 1863, the creators of the Belarusian People's Republic, the Slutsk rebels, the Belarusians who died in the NKVD in 1937. We will not give up our independence," - Arlou said.