Baranavichy Resident In Square: Lukashenka Still Ready To Hand Over Our Country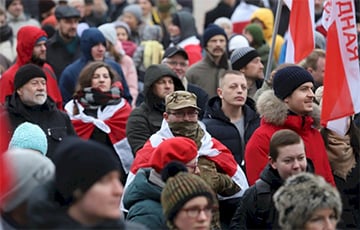 The general mood of Belarusians is pro-European, the protests should continue.
The protests against the so-called integration of Belarus and Russia have been taking place for the second day in a row in Minsk today.
A man from Baranavichy told why he has come to the action:
"I have prepared for today's action, I made a pro-independence poster - in the form of a popular avatar.
Yesterday in Sochi, Putin and Lukashenka failed to do what they planned. But we must not calm down, we cannot rest - nothing has really changed, everything remains the same. The Kremlin's appetite for Belarus has not diminished, and Lukashenka's willingness to surrender the country has remained the same. He cannot be trusted.
The general mood of our citizens is anti-Putin, anti-Kremlin, pro-Belarusian and pro-European."