Girl With Green Putin In Hands: I Will Invite Everyone I Know To Next Square Action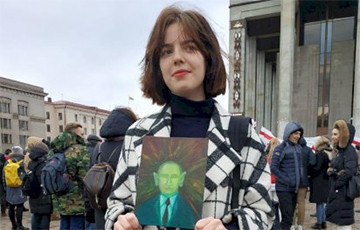 And everyone should do that.
The protests against the so-called "integration" of Belarus and Russia have been taking place for the second day in a row today in Minsk.
A young Belarusian came to the Kastrychnitskaya Square with an original painting, which depicted a green creature with big ears, very similar to Russian President Vladimir Putin.
"This is my picture, which I painted about a year ago, and decided to take it with me to create a funny image, this is my first oil painting.
Each person should have an active life position - I think, then this means something. I'll try to come to the next rally for independence myself, to take all my acquaintances and friends with me. And everyone should invite friends - then something will happen," the girl said.