'Millions Are For Free Belarus!'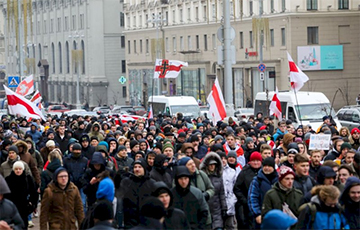 The actions for independence are very enthusiastic.
Today in Minsk, the action for the independence of Belarus continued. The events lasted almost 5 hours.
"I'm in a great mood. Our people are so enthusiastic, "said one of the protesters Vital. "I would like to hope that our youth will be free from the mafia structures of Russia and Belarus. New, fair laws should appear in the country. 7 million people - for a free and independent Belarus! We will win!"
Important to note, the organizers of the pro-independence action urged people to come to the Kastrychnitskaya Square in Minsk again at 6 p.m. on December 20, when another round of negotiations between Putin and Lukashenka will take place.