Viachaslau Siuchyk: Evil Empire Was Once Pierced With Aspen Stake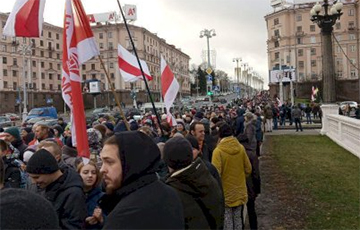 We defend Belarus today, and it will do the same for us tomorrow.
The protests against the so-called "integration" of Belarus and Russia have been taking place for the second day in a row today in Minsk.
One of the leaders of the Razam movement Viachaslau Siuchyk has spoken in the Kastrychnitskaya Square. He has noted that on December 8, 1991, the evil empire in our land was pierced with an aspen stake. He urges Belarusians not to give up, and fight for their country.
"Belarus should not be silent. My dears! When I see your faces, I see Belarus. I know: Belarus lived, Belarus lives and Belarus will live. I know that we will win. Therefore, I urge everyone to be active: today we will protect Belarus - and tomorrow it will protect u