Miami Belarusians Held Rally To Commemorate Missing Politicians And To Support Charter-97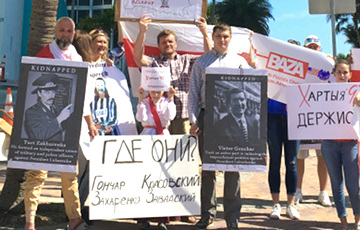 Protesters marched along one of the main streets of the city.
The organizers of the action reported this to the website Charter97.org.
"As has recently became known, the relatives of the disappeared politicians, Iryina Krasouskaya, Zinaida Hanchar, and the confidant of Zakharanka's family, Aleh Vouchak, received a message about suspending the preliminary investigation. This way the dictatorial regime is trying to hush up the case, hide the traces of the crime and destroy any possibilities for finding out the truth about these disappearances.
This news immediately outraged the Belarusians living in the United States and they expressed their criticism. The leadership and activists of the Belarusian-American Association of South Florida decided to hold a protest rally," – the statement says.
On February 16, in the famous Ocean Drive in Miami, the white-red-white flags of Belarus were raised up into the sky again. The protesters were holding photographs of missing people, slogans and posters against Lukashenka, caricatures ridiculing the dictatorial regime in Belarus.
Protesters marched along Ocean Drive.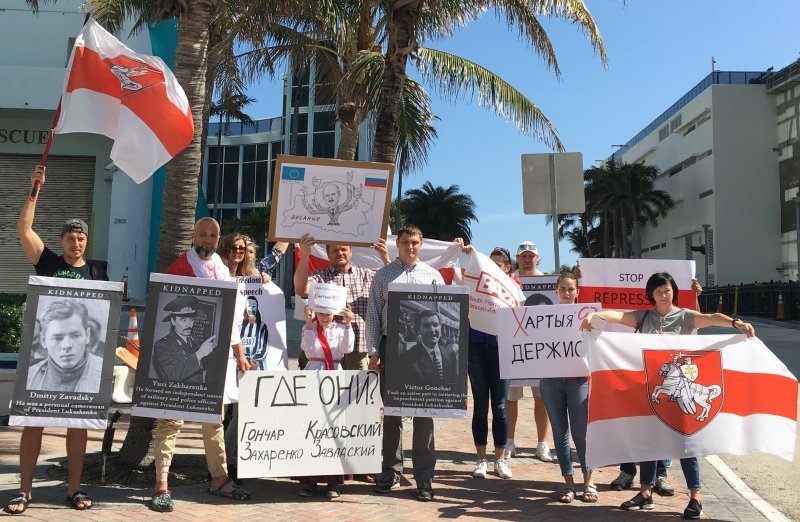 Also, the current situation with the Charter-97 website is of particular concern.
The leadership of Belarusian-American Association of South Florida decided to financially support one of the very first and independent freedom news outlets in Belarus. The Belarusian-American Association of South Florida calls on all caring people who cherish democratic principles to help Charter-97.
At the end of the rally, Andrei Pushkarev, the Chairman of Belarusian-American Association of South Florida, made a speech.
It said that we would always remember our heroes: Viktar Hanchar, Yury Zakharanka, Anatol Krasouski, Dzmitry Zavadski, who died for the truth.
"We openly welcome Belarusians who are not indifferent to the political future and human rights in the modern Republic of Belarus. We are always glad to meet new like-minded people and we welcome them into our ranks," –the organizers of the rally said.
We remind that on February 14, Editor-in-Chief of the website Charter97.org Natallia Radzina was invited to the Polish Fund of International Solidarity. President and Director of the Fund Maciej Falkowski and Aliaksandra Yarashevich informed the journalist that financial support to the website in 2019 would be reduced almost five-fold in comparison with last year. This decision was taken on the day of arrival of Mikhail Miasnikovich, the head of the illegitimate Belarusian "parliament".
Ways to support the website:
DONATION VIA PAYPAL:
MULTI-CURRENCY ACCOUNT FOR ASSISTANCE:
Bank's name: Bank Millennium S.A.
Address: ul. Stanislawa Zaryna, 2A, 02-593, Warszawa
IBAN: PL 97 1160 2202 0000 0002 1671 1123
SWIFT: BIGBPLPW
Name of the account holder: Fundacja "KARTA '97"
Purpose/title of payment: Donation for statuary aims
You can contact us by the e-mail charter97@gmail.com