Radio Liberty: Stoubtsy Attacker Starts Giving Testimony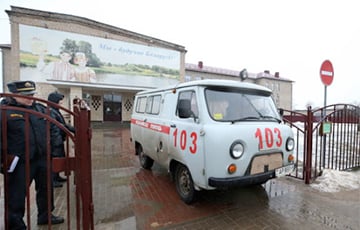 This information has also been commented in the Investigatory Committee.
As Radio Liberty has found out, the suspect of a double homicide and an attempt of homicide in the school #2 in Stoubtsy Vadzim M. has started giving testimony. This information has also been commented in the Investigatory Committee.
"So far, I can only inform that the investigation is continued, the investigators are clarifying all the circumstances. Planned investigatory measures are being conducted. No more information will be revealed in the near future in the interests of the investigation," Head of the Information and PR Department of the Investigatory Committee of Belarus Siarhei Kabakovich said.
Vadzim M., who was detained soon after the emergency situation in the school #2 is still held in the pre-trial detention facility at the district police department in Stoubtsy.
According to the information provided by the Stoubtsy district newspaper "Luch" in the Saturday issue, the investigators consider different versions of the murder – from a conflict situation to the psychologic influence on the teenager, also through the internet, religious sect etc.
The newspaper quotes Deputy Headmistress of school #2 Iryna Harelik, who was giving a math lesson, during which an attack at Aliaksandr R. occurred. According to her, Vadzim M. entered the classroom during her lesson, and headed precisely for the desk where Aliaksandr R. was sitting.
"Alex was dying in my arms. The tragedy happened when our math lesson had just started. We had only managed to check the homework, when the door opened and the 10th-former went in. In less than a second he walked along the wall, headed for the third desk and stabbed Alex. We caught Alex on the arms, moved the desks aside, tried to stop the bleeding. I was praying to God so that Alex would not die," Iryna Harelik told.
According to the data of the medical examination, the suspect was neither under the influence of alcohol, nor of some drugs or psychotropic substances.