IC: There Are No Detainees In Case Of Clinton's Bench Destruction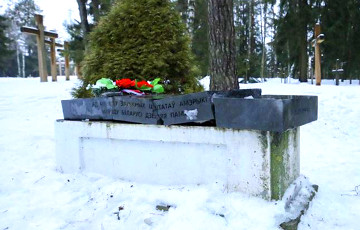 The official representative of the IC in the Minsk region told about it.
At present, there are no persons charged for the destruction of the so-called Clinton's Bench in Kurapaty.
Tatsiana Belanoh, the official representative of the Investigative Committee in the Minsk region said this to Radio Svaboda.
"At present, there are no persons detained in the case of the destruction of the Clinton's Bench. At the request of the investigation, operational activities are continued, persons are checked for involvement in the commission of unlawful acts," – she said.
US President Bill Clinton hold the unveiling of the Memorial Bench, as a gift from the American people to the Belarusian people, in Kurapaty in 1994. Vandals broke it several times and finally destroyed it on February 7, 2019. The investigative committee opened a criminal case on this incident.
Meanwhile, Kurapaty defenders say that police officers from the Barauliany office of the Minsk district police department detained a group of young people. One of them is suspected of destroying the Clinton's Bench.
Kurapaty defender Ales Chakholski, who talked to the mother of the detained guy, told the details. It is reported that the guy is a graduate of a Minsk gymnasium M., who brought two familiar girls to Kurapaty to show them this tragic place. Police officers in plain clothes followed the company. The young people took them for hooligans and began to run away.
The police officers caught up with them, demanded to stop, but one girl used pepper spray against one of the police officers. Only then did the police explain who they were. As a result, the young people were detained and kept in the Barauliany police station until the evening. The guys told that the police officers were shouting at them, threatening, demanding to confess that they allegedly destroyed the Clinton's Bench," – Chakholski added.
The police officers released the girls in the evening, while they kept the young man for another three days before the release. The guy's involvement in the destruction of the Clinton's Bench is being checked. His house was searched, Chakholski informed.