Opponents Of Brest Battery Plant Filed Lawsuit Against Officials
8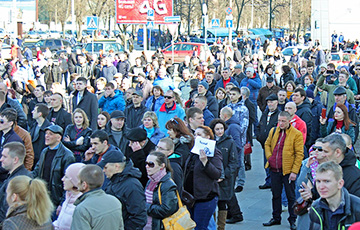 The activists are fighting for the right to peaceful protest.
On February 18, a complaint against the refusal of the Brest district executive committee to register the initiative group for holding a local referendum filed with the Leninski District Court of Brest. This was reported to the Brest newspaper by the head of the initiative group, Iryna Silitskaya.
The activists ask the court to recognize the refusal to register them as illegal, unreasonable, violating their right to participate directly in the conduct of public affairs, and demand to oblige the executive committee to register the initiative group and the issue submitted to the referendum.
"As citizens, we simply want to make decisions on issues of vital importance to us in our own land, since the officials, having all the necessary powers, do not want to defend the rights and interests of the people, but protect the business with hazardous production. We, the residents, must decide this question ourselves: whether this lead-acid enterprise, which is harmful to our health, will be built in Brest region or not," – Iryna Silitskaya commented on the complaint.
The complaint states that since the residents of other regions and administrative-territorial units were not involved in the public discussion of the environment impact assessment and were not notified by the Brest district executive committee, the executive committee has already determined the circle of persons whose interests are affected by the construction of the plant – only Brest district residents have been assigned to them.
We remind that on December 21 last year, opponents of the battery plant construction submitted to the Brest district executive committee an application for registration of a group to hold a local referendum in Brest district. The initiative group included 32 residents of Brest region. The activists also asked in their statement to register the question that would be submitted to the local referendum: "Should any activity related to the construction and operation of the plant for the production of lead-acid batteries be prohibited in Brest region?" A list of the initiative group, a list of participants of the meeting on December 16, statements of each initiative group member on their consent to participate in its work were attached to the application.