Vandals Destroyed Clinton Bench In Kurapaty For Second Time In Month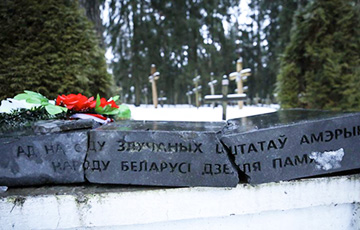 The gift of the President of the USA has been broken into 14 pieces.
The Clinton Bench memorial sign in Kurapaty, presented by the President of the United States in 1994, was finally destroyed.
Svaboda has been informed about this by Kurapaty activist Hanna Shaputska.
"We counted more than 14 pieces. 4 relatively large lie on a pedestal, others are scattered around, the wreath is also destroyed. The pedestal is whole and sound, but the bench has been destroyed. And it can be seen that a whole path has been trampled down from the forest to the bench. Apparently, they were going back and forth. Perhaps, not one person," – Shaputska said.
She does not know the time when the act of vandalism took place in Kurapaty.
The police was called at the scene.