I Was Shocked to Learn About My Pension of 54 Rubles, Economist Says
102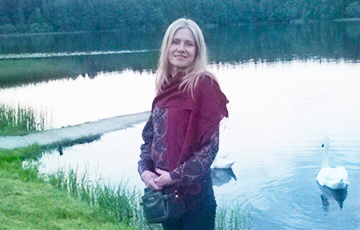 This is the story of life in a "social state".
More and more Belarusians are trapped by the pension insurance record and forced to receive a social pension, which is several times less than an already modest labor one.
At the same time, state authorities do not properly inform citizens about life in old age, and the fact of a social pension accounting is a surprise for many people.
Alena Paplauskaya, an economist by education, shared her story with Charter97.org.
- How did you learn that you're subject to a social pension?
- The thing is that I'm a military wife. We lived in garrisons all the time, so I worked in different places and had breaks.
I'm an economist by education; I graduated from Minsk Economic University. Before the maternity leave I worked at the factory in Vologda as a controller, and then me and my husband worked all over the former Soviet Union.
"I received maternity benefit from this factory for two consecutive maternity leaves, while my husband was serving in Riga. And then we moved to Shchuchin, where I worked as an economist at the territorial medical association. When the regiment in Shchuchin was closed, we moved to Maryina Gorka, and we faced challenges with jobs there. I went to the labour exchange office, but I got nothing but unemployment benefits.
And then, one year later, my parents got seriously ill in Minsk. My mother was diagnosed with Alzheimer's disease and was given the first disability group. And my dad was diagnosed with Parkinson's disease. To take care of them, I moved to Minsk 11 years ago.
There were so many concerns that I did not even register at the employment office as a care-taker and did not ask for any material assistance from the state. But when I saw how much medical and social services ignore people, I decided to register and receive sick care allowance.
I received first allowance in January 2008, and in 2016 my mother died. During all these eight years I had to face a lot of humiliation and discrimination when receiving public money.
The first discrimination was that, being registered in Maryina Gorka, I received much lower allowance than that registered in Minsk.
Second, the amount of the allowance itself was humiliating. At first, I received as much as $12 each month! I will always remember this figure.
But in order to get even this money, I had to sign the paper saying that I had absolutely no income, not even interest in the bank.
When the news about the retirement age increase and pension insurance record began to appear on the Internet, many people fell into the "pension trap." I was concerned whether it would affect me as well. At that time, I had only 7 years of pension insurance record, while the law required 15.
Now I am 56 years old, and I am working, but even if I work till the retirement age, I will still remain without a labor pension.
- Have new pension laws had any impact on this?
- Of course, two maternity leaves, years of education and, the most outrageous thing, eight years of care for my sick mother have been crossed out of my record.
Moreover, when I was applying for the allowance, the social security bodies did not tell me that these years would not be included in my employment record.
The cynicism of our authorities is that they keep people in the dark and then inform about a social pension. There is not enough information on official websites either. I am a person with higher economic education, with a sufficiently high level of computer literacy and skills to search for information on the Internet - I cannot understand the principle on which we are accounted pensions.
The system is extremely non-transparent, the data on state websites contradict each other and give completely different figures. The website of the Minsk City Executive Committee reports one thing on pension record, while the website of the employment office of Savetski district of Minsk states the other thing.
According to the data I have managed to collect from public sources, at the age of 60 I should receive a pension of 87 rubles.
When I came with my employment record book to the employment office in our district, she made some calculations and said: "What does make you think you'll get 87 rubles? You are entitled to 54 rubles...
- What was your reaction?
- I was just shocked. I had endless references to some decrees in front of me, which leave me with $25 a month in my old age.
The social security system of Belarus is absurd. I will definitely find a lawyer to challenge this decision. Because it's just lawlessness.
A non-transparent and strange pension system is also disturbing. The pension is accounted according to the last work place. A person should collect certificates and take them to work. There they make some calculations and send them to the pension fund.
It's an extremely complicated system and everything is done to make it impossible for a person to understand it and protect rights.
The attitude of officials dealing with pension issues is also outrageous. The woman I visited said: "What are you worried about? You have a military husband. When he dies, you will be able to apply for 40% of his pension". It's not pleasant to hear, is it?
Of course, I understand that there is no money in the country, and the level of development of politics and economy is determined by the state's attitude towards the elderly and animals. But how can one come up with such figures: a sick care allowance of $12 and a pension of $25? As economist, I cannot justify such figures.
Our old people are simply doomed to putrefy alive - if they do not have normal children who are ready to take over the functions of the state and take care of them in old age.
I understand higher authorities determine the trend of attitude to people (including pensioners). But I'd like to ask officials at places: you communicate with people, and they lack money, how do you look them in the eye?
I can handle my situation: I have good children and I am still full of energy, but there are situations much more serious.
For example, my friend's husband fell from a building timber when restoring the church. Now he's a disabled person, and she is taking care of him. It happened when they were just over 20, and now they are 50. It turns out that all these years she has had no employment record. He is helpless without her. According to the logic of the state, she had to leave her sick husband to earn a pension. And she will get these 25 dollars.
Don't the authorities understand that such "pensions" contribute to a criminal environment in the country? People will not be able to live off such money. So, when they are old, do they have to go stealing to avoid starvation?
Immoral things are taking place in our state.
It happens everywhere, not only when pensions are accounted. For example, we have recently claimed an inheritance. Father passed away two years earlier than mother, but she could not walk and we didn't bother her. So we paid about three hundred dollars to claim the privatized apartment after her death, just because we didn't want to bother ther with bureaucratic procedures. This also proves the attitude towards citizens - in order to get what is already yours under the law, you still pay much money to the state.
And pensions are cut to a minimum. I can't say that this bad attitude towards people; there is nothing at all.
Our state budget receives about 60-70% of its revenues from duties, taxes and fines. It's terrible. It shows that the state is nothing.
- Many Belarusians have found themselves in the "pension trap". What could you recommend them to do?
- I agreed to this interview to help people with my story. Let them read about it and think, analyze and decide.
I am optimistic and in a fighting mood. I believe that if we exchange information and help each other, we can solve many problems in the country.