Brest Resident, Who Laid Flowers At Place Of Execution Of Ghetto Prisoners, To Be Tried On March 25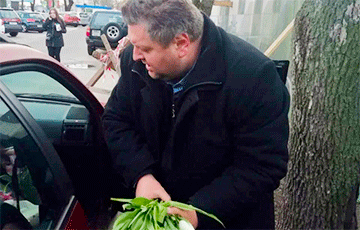 Vital Kazak has been kept in the detention center for honoring memory.
The consideration of the administrative case of the Brest social activist Vital Kazak has been postponed to March 25. This was reported by fellow activist on the Not Indifferent viber-channel.
As Charter97.org previously reported, Vital Kazak was summoned to a police station on Friday because of a number of his activities to perpetuate the memory of people who were found during the construction of the Prybuzhski housing quarter. The activist did not leave the police station because he was sent to the temporary detention center of the Leninski district police department of Brest, where he was kept until Monday:
– There are monuments to military leaders, writers, poets and politicians in our city. But there is no monument to the common man who lived here and paid with his life for the mistakes of politicians. It is time to make such a memorial.
He will be tried for two episodes, one of which falls under Article 17.1 of the Administrative Code of the Republic of Belarus – "petty hooliganism". Since the remains of the victims of the Second World War were found on the site of the future Prybuzhski quarter, Vital Kazak has held three honoring memory events. Thus, he wanted to encourage the local authorities to respect the place.
Earlier, the activist from Brest was already fined 20 basic units for laying flowers at the place of execution of ghetto prisoners.