Basta: In Polatsk, "Deputy's" Relative Used Slave Labor Of 40 People
20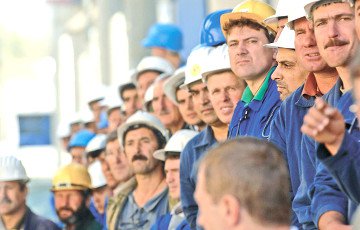 During the check, the police took the side of the "legislator's" family.
"Deputies" and their relatives are following Lukashenka's example and use slave labor and, if possible, welsh people. Yauhen Parchynski, a reader from Polatsk, told the Telegram channel Basta about one of such cases.
The Krip company concluded an agreement with the director of Saviko LLC, Aliaksandr Huivik, having undertaken repair work on several sites of the customer. A private house, an apartment, a bathhouse are among them. The amount stated in the contract as payment was approximately 200 thousand dollars.
About forty people worked at the sites. At the end of the work, nobody paid them.
The company Director Dzmitry Skrypachkin appealed to the Polatsk District Department of Internal Affairs with a request to investigate the fraud. The received answer, to put it mildly, was surprising: "The check revealed no corpus delicti in Huivik's actions, <...> and all actions of the applicant were gratuitous and voluntary."
That is, in the opinion of the head of the District Department of Internal Affairs, forty workers gathered and decided: "Let's just work for free several months. Our families can wait, we will earn someday for them later. Why not help a good man?"
The answer of the head of the District Department of Internal Affairs has a simple explanation: Natallia, the former Aliaksandr Huivik's spouse, is a "deputy of the House of Representatives," wherein, by the way, she heads the Standing Committee on Legislation. And all the sites where the construction work was carried out, are registered to their daughter Volha. And the fact that the latter is a former classmate of Yarmakou, the acting head of the Economic Crime Department of the Polatsk district, who conducted the check, is, of course, a coincidence.